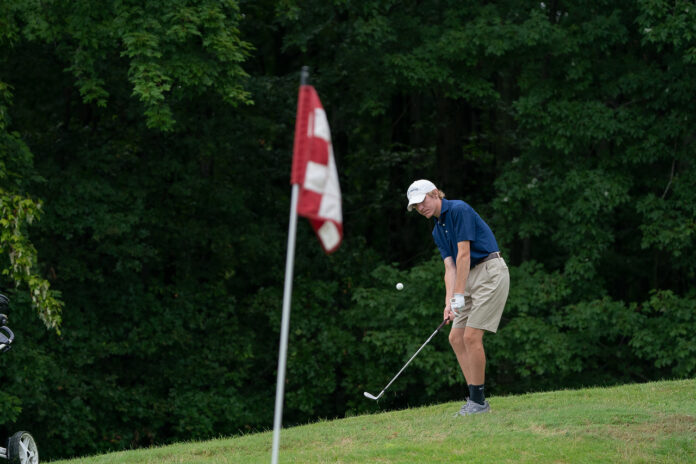 by Aidan Oliss '23
Last weekend, we saw the golf team wrap up the playoffs with an outstanding performance culminating in a team score of 610 which captured a fourth state title for the Saint Ignatius Golf Team. We also had Nick Piesen '23 secure the individual state title with a personal tournament score of 148 (74-74) and everyone on the team finishing in the top 25: Bradley Chill '24 tied for second place, Connor Malicky '23 and Julian Dugan '24 tied for 21st place, and Michael O'Leary '23 tied for 24th. After this remarkable team performance, I spoke with Nick to get his thoughts and feelings on the championship tournament and what this victory means for the golf team.
Nick began by saying, "Winning a team state championship is really special, especially back-to-back. This week was special and was a great ending to my high school career." Nick further explained how hard they worked during the season: "We worked so hard the whole season to get to this point and that hard work paid off." Nick also provided his opinion on the key moments in his championship match: "There definitely were some key moments, on holes 12 and 13 on the final round I made a 20 footer and 30 footer which gave me momentum finishing the final round." Nick then detailed his mental state going into the game and his feeling after the 18th hole: "That day I felt so confident in what I was doing, I was in complete control of my game. The feeling of walking up the 18th hole was awesome, a memory I'll never forget." 
Lastly, Nick proudly stated, "This team will forever go down in history!" Thanks to the top tier performance by the entire team, that vision has now become a reality. It has become undeniable that our golf team was special this year and deserving of a record setting back-to-back state championship, making Saint Ignatius High School golf history with their performance. Nick has committed to Indiana University for golf, and we look forward to watching his continued success there.