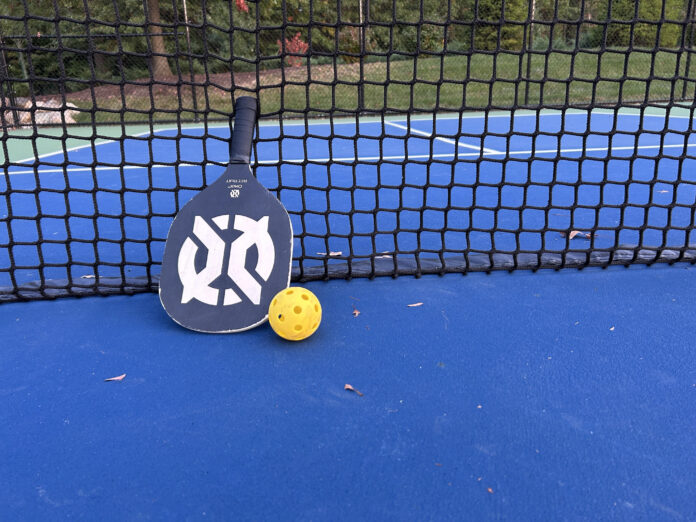 By: Zain Abbas '27
A new sport has captured the interest of athletes all across the nation —  Pickleball. A paddle sport that combines elements from tennis, badminton, and more, pickleball has found its way to courts across the world and even to the gyms of Saint Ignatius High School. 
The Pickleball club here at Saint Ignatius is a fun way for students and faculty to get active after school on Mondays in the Murphy Gym. Those who are interested but have no experience have nothing to fear as the club prioritizes having fun and making sure that all feel welcome. Mr. Barker '87, faculty moderator, emphasizes that anyone of any skill level can join and still have an enjoyable time: "Everyone's out there trying to have fun and win their games, but it's no big deal if you don't. Just be patient and you'll have a good time." 
The Pickleball Club is new but has been quickly gaining popularity. Daniel Maddox, one of the club's first members, says that he enjoys his time in the pickleball club: "It's really friendly and inclusive. If you haven't played before, that's fine." 
Senior Soham Shah is one of the student founders of the club. After getting introduced to the game this past summer, he knew he had to bring a pickleball club to Saint Ignatius: "Once I started I couldn't stop, and I wanted to bring it to the school." Shah is excited about the immediate interest in the club and is already thinking about the future: "It's growing a lot, so we definitely have plans for it going forward."
Pickleball Club has already begun gaining popularity on campus, and those interested should make sure to get involved on Mondays at 3:15. 
Contact Mr. Barker at [email protected], Soham Shah at [email protected], Steven Tirpak at [email protected], or Charles Bartles at [email protected] for more information.