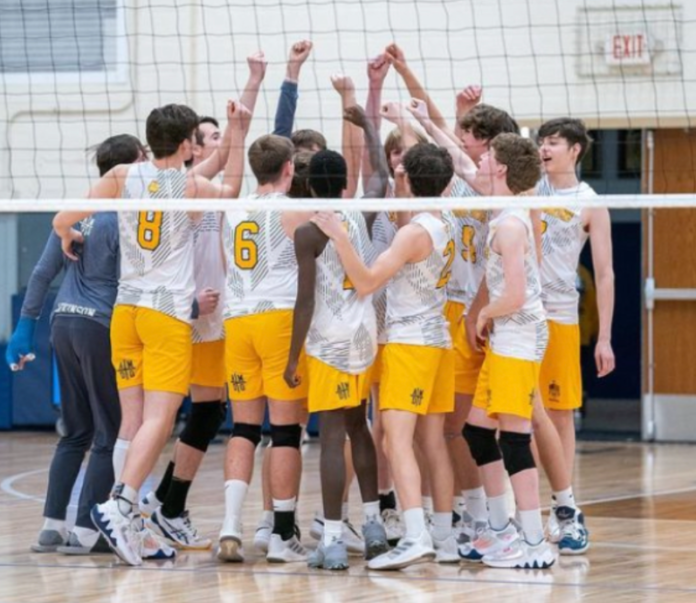 By Seamus Walsh '24
In its inaugural season as an Ohio High School Athletic Association sanctioned sport, the volleyball squad looks to make a deep run in the postseason. The regular season has been nothing short of eventful. The team fought for wins over Olentangy Liberty, Elder, and St. Edward along with steady victories throughout the season. Inversely, injuries have plagued the lineup: setter Jack Kanzig '23, right-side hitter Sean Atkinson '24, and outside hitter Sam Brown '23 have all spent time getting treated by Ms. Moe. These injuries led to long games with the Cats playing in almost a dozen grueling five-set matches. At the season's end, the record stood at 13-9, which secured the second seed in the OHSAA regional tournament. Patrick O'Neill '23 is confident in the team's ability in the postseason: "If we can just play Wildcat volleyball for six straight matches, I believe we can beat anyone in the state."
The Cats will play their first-round matchup at home in Sullivan Gym on May 10th, facing either Springfield or Mentor. If victorious, which is likely, the team will seemingly square off against Firestone on May 13th, a team that the Cats swept in three sets on March 24th. The test will come after this: Jackson, Stow-Munroe Falls, or Brecksville-Broadview Heights will be the next matchup. These teams pose a serious threat to the Cats as all three are scrappy and offensively dangerous. The Polar Bears and Bees have each beaten Ignatius this season. Nevertheless, the Wildcats have beaten Jackson once as well and were injured against Brecksville. Overall, this regional semifinal round could endanger the season, but victory is attainable.
If Ignatius advances to the regional final, they will undoubtedly be squaring off against the one-seeded Hudson Explorers. Boasting multiple first-team honor recipients and the regional player of the year, their 20-0 season warrants commendation. This does not mean the Cats aspire to allow Hudson to maintain this record. In fact, they seek to ruin Hudson's season and punch a ticket to the state semifinals at Wittenberg University in Springfield. The Cats were swept by Hudson earlier in the season, yet the Cats seek to turn the tables this postseason before advancing to state semifinals and likely facing St. Xavier and Olentangy Liberty among others.
"Our season restarts now, as everyone is 0-0," notes Head Coach Dominick Adornato '11. "We'll be ready to play." Five key seniors lead the team: Sean Bingle, Sam Brown, Jack Kanzig, Patrick O'Neill, and Jacob Thomas. Brown received first-team honors with upstart outside hitter Jack Ragon '26. O'Neill and Kanzig received honorable mentions. "The team…and relationships are tight," states Bingle, Jim Skerl Award recipient. The relationships will be tested in a certainly intense postseason, but "If the road is easy, you're going the wrong way," noted superfan Mrs. Jennifer Atkinson, mother of Sean Atkinson '24. Certainly, the road to a state title will not be free. Each game towards that goal will have to be earned. "Iron sharpens iron," noted O'Neill. Vying for a state title, the team must find value in camaraderie and ingrained unity.