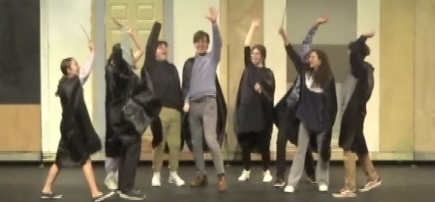 By Jackson Kenny '25
Fans of a certain series of books starring a certain boy wizard are in for a treat this fall, as the Harlequin's presents Puffs, or Seven Increasingly Eventful Years at a Certain School of Magic and Magic. 
Puffs focuses on the misadventures of the Hufflepuffs, following Wayne and his friends as they navigate their own journey through school. 
The cast and crew consists  of students from Saint Ignatius High School, Saint Joseph, Magnificat, and Beaumont. 
Anthony DeBlasis '25 plays the eccentric J. Finch Fletchley, a role that has allowed him to experiment with different character traits. "What I love is that [Puffs] allows me to parallel my character with my own personal experiences. There was a lot that I didn't know about myself that I didn't realize until I played J. Finch."
Assistant Stage Manager Jacob Rolda '26 will be calling the cues of a show for the first time this fall. For Rolda, working on Harlequins productions has been an educational experience. "Learning about theater in general, from hanging lights to putting together scenic elements, has been really cool," he says.
Over the weeks, the cast and crew have become a tight knit community, something which Saint Joseph Academy student Lyla Patrick '27, who plays Susie Bones, notes is essential to the success of the show. "Interacting with people off-stage makes it more authentic to interact with them on-stage," says Patrick. "It all ties together on stage at some point."
Ticketing information for Puffs is available at ignatius.edu/puffs. The production runs November 17-19.