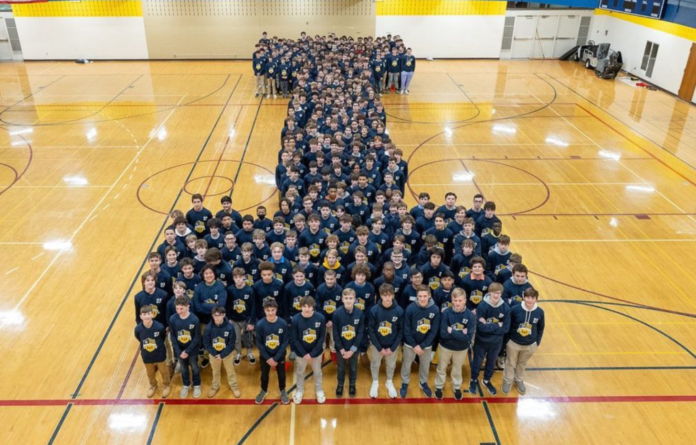 By: Joshua Gordon '27
From the Freshman Atrium to the Library to the Mall, the buzz of excitement that fills the campus every morning until 3:05 is palpable as the freshmen of the Class of 2027 begin their journey at Saint Ignatius High School. As they settle into the new year, here is an in-depth statistical breakdown of this vibrant group of young men.
The class comprises 389 students from 107 feeder schools, the top three being Saint Raphael School, Saint Albert the Great School, and Saint Christopher School, respectively. It follows, then, that 66 percent of freshmen hail from Catholic schools.
Students' homes are scattered throughout Northeast Ohio, occupying a total of 64 cities and nine counties. 53 percent of freshmen are Westsiders, 26 percent are Eastsiders, and 21 percent are Southsiders. The closest a student lives is a couple minutes away while the farthest commute is almost an hour: a 55-mile drive from Rock Creek to the campus.
Other miscellaneous statistics include that 88 freshmen are Ignatian Scholars, 18 percent are taking AP Modern World History, and – most interestingly – 41 percent of the class are legacy students.
While these statistics provide valuable insights, the Saint Ignatius community anticipates the Class of 2027's future accomplishments during their next four years at the school. In the words of Director of Admissions Patrick O'Rourke '90, "Some [students] did some pretty cool things in grade school, but let's see what they do at Ignatius… as we say in Latin, everyone has a tabula rasa, or a clean slate!"