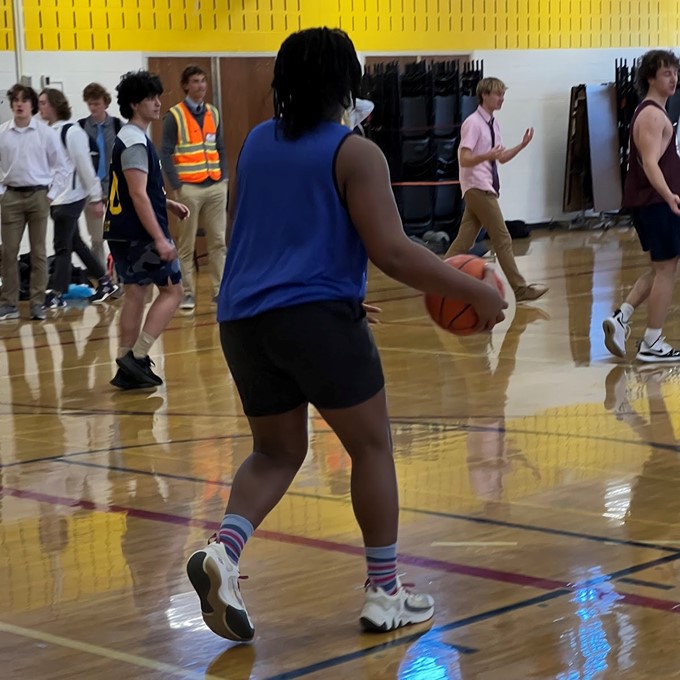 by Simon Hajjar '23
For the past 6 months, student hoopers have been sharpening their skills during their activity periods and even after school in Murphy Gym. Now, as of February 21st, the time for practice has officially come to an end and students are eager to showcase their basketball prowess in their quest to be crowned Intramural Basketball Champions.
The upcoming season is sure to be one for the books, and the stakes have never been higher. With over forty-five teams  — including the star-studded faculty team —  and games held practically everyday in Murphy and in Sullivan Gym, the competitive spirit of Intramural Basketball has returned with a whole new level of intensity. Due to the sheer volume of participation, each individual grade level will have their own division and bracket. Each team will face off against other members in their division in five-on-five full court games; playoffs will be determined by early April. The winning team will get the coveted title of Intramural Basketball Champions – complete with eternal bragging rights – plus a highly-coveted free Intramural Champion t-shirt.
Perhaps one of the most intriguing parts of this year's Intramural Basketball season are the new rules that have been put in place. As a result of the new flooring in Sullivan Gym, even the best three-point shooters in the school are rendered powerless as Mr. Martin has announced that every basket scored in Sullivan will count as only 2 points. However, in Murphy Gym distance shooting is essential as all baskets are fair game. This new rule will certainly add an interesting dynamic to the game. Additionally, points scored/allowed will no longer be recorded within a team's record, a stat that had been integral in the past for creating standings and used as a tiebreaker for playoff contention; now tiebreakers will be determined by the 50/50 fate of a coin toss. The unique set of rules and regulations is sure to raise the intensity of the game and create unforeseen challenges for teams. No matter the outcome though, victory will ultimately come down to a lot of hard work, endurance and teamwork. Whether you're ready to hit the courts and prove your mettle or looking to sit on the sidelines and show your support, you'll definitely want to attend some of the games.
The Saint Ignatius High School Intramural Basketball season promises to provide a great source of entertainment for students, whether it be partaking in the competition or spectating. With off-field rivalries within grades reignited, new rivalries forming, and plenty of upsets already, the season is already off to a hot start.