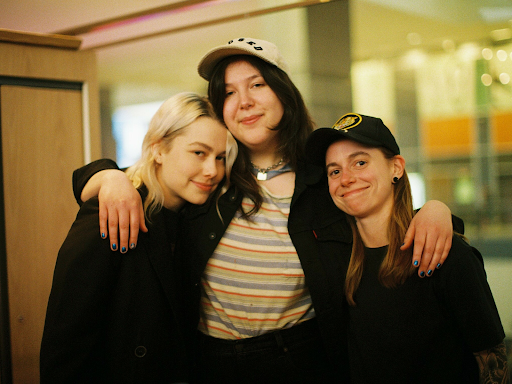 By Finn Ross '25
The supergroup boygenius, comprised of Julien Baker, Phoebe Bridgers, and Lucy Dacus, has taken 2023 by storm. This spring, their long-awaited album the record came after their 2018 self-titled debut EP, a stunning, impressive album featuring powerful songs like "Me & My Dog" and "Salt In The Wound." With the 2023 release of the record's lead singles "$20", "Emily I'm Sorry", and "True Blue," the album's focus has clearly shifted around strong vocals and bold, melancholic lyrics. 
Not only does the record showcase the band's maturity and confidence that comes with a sophomore release, but their immense talent as well. boygenius's depth is heavily influenced by both the nuances and commonalities between each of its members and the talent that comes with their formation.
Julien Baker, standing proud at five feet tall, holds compelling vocals strong enough to fill Coachella, which the band recently headlined, and demanding lyrics to pierce your soul. Phoebe Bridgers, whose popular work is often described as "the-type-of-music-even-your-dad-knows," brings a solemn voice and heart-wrenching lyrics to the band. Lucy Dacus, well known for her deserving viral hit "Night Shift," contributes clever songwriting and the natural etherealness of her vocals to the record. 
Each member of boygenius is so independently strong that when they come together, meshing their vocals to create blissful harmonies and killer lyrics, they are a true supergroup on the wavelength of a contemporary Crosby, Stills, Nash & Young.
the record exudes true modern alternative music. Its sound and lyrics breathe through feelings of pain, recovery, and growth, highlighted on tracks like "Cool About It", "Not Strong Enough", and "Letter To An Old Poet". Ultimately, the record captures the insane talent of boygenius, leaving fans alike excited to see what more is on the horizon for this brilliant supergroup.