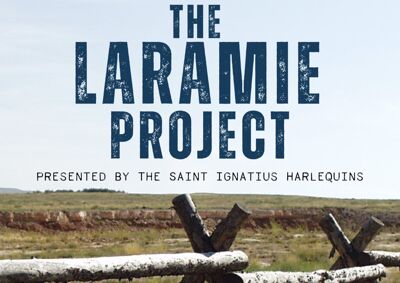 by Jackson Kenny '26
When cast member Jackson Gordon '24 initially learned that the Saint Ignatius Harlequins had selected The Laramie Project as their fall play, he was shocked because "It's such [a] heavy subject matter that, in the past, would have even been controversial to speak about."
The Saint Ignatius Harlequins are currently preparing performances of the fall play, The Laramie Project. The play was originally written by a group known as the Tectonic Theater Project constructed from interviews with the people of Laramie, Wyoming after the beating and torture of Matthew Shepard, a gay man, in October of 1998, which subsequently led to his death. The Eye was able to ask questions to members of the student cast and crew about their experience with the show and what they hope it accomplishes in the Saint Ignatius community.
Every member of the cast plays a myriad of characters on different sides of the issues facing the town of Laramie, and student director and Beaumont High School senior Emma Schoeffler loves the amount of different perspectives this allows: "I love how many different perspectives into the event there are and how there are never really any judgments made on these perspectives – it really shows that the people who made this show spent a lot of time in the community and really got to know the people there."
The show is clearly an emotional piece, both because of the intense subject matter and because it is a true story. That means that all of the characters in the show are real people. Cast members Jackson Gordon '24 and Tony Fitzgerald '26 made salient points about having to play difficult roles. Jackson Gordon '24 says, "It's a lot. It's really hard because all of it is real; these were real people and you have to get yourself in a place to say some awful things. Just the idea of it can feel dirty. The words aren't pretty. Tackling that and not feeling like dirt afterwards is not an easy thing."
Tony Fitzgerald '26 says, "It's really difficult trying to relate to some of [my] characters because [some characters can be] very hateful and very spiteful; knowing that the characters in this show are real people, knowing that they really exist makes it even more difficult.
Cast member Tommy Bilczo '24 also noted an important point about the way the show treats the concept of human dignity, an essential phrase for the Harlequins as they navigate this difficult process: "I find it really interesting that people in the cast have to portray murderers with the idea that even those murderers have human dignity that they can't take away."
Cast member and Magnificat High School senior Kristina Telban said that although grasping the concept that this was 'a real event that actually happened' was initially difficult, doing research about her characters helped her realize that these characters had a life outside of the words written on the page, which has immensely helped her character work throughout this process.
On the technical side of things, lighting designer and Saint Joseph Academy senior El Healey says that the hardest challenge has been the collaboration between departments and the heavier tone of the show: "[The hardest part has been] the collaboration between departments. I'm the lighting designer, but I've had to work closely with stage management, scenic design, and sound design at different points so we can put forth a product that really works cohesively." El also said that working on a show with potential impact beyond the stage has put pressure on the Harlequins to deliver the best show possible, but they have confidence that the cast and crew are on track to make the show the best it can possibly be.
The Harlequins hope that the experience students have watching the show will have an impact on day-to-day life at Saint Ignatius, specifically concerning the treatment of LGBTQ+ students. As Kristina notes, "LGBT people today are still facing discrimination and violence constantly, and this is a frequent thing that still happens so it's very important to raise awareness about it, and I think that human dignity is really important in today's society."
El Healey says, "I mainly hope that they understand that this is a story about a community learning about itself and, in turn, reflect that learning back onto themselves. Nobody in this story is perfect, but that doesn't mean they don't deserve dignity. That's a word we've used a lot recently, dignity. It's really the thesis of this show. Treat each other with dignity and respect; you won't always be perfect but trying is what allows us all to grow."

Saint Ignatius High School's own Jackson Gordon says that the play is directly relevant to the school: "I know from experience I can just casually hear the 'f-slur' being said in the hallways, with no one batting an eye. And, of course, it's not as bad as it once was, but if someone sees a play like this, and, you know, maybe they haven't been the best in the past when it comes to [LGBTQ+ inclusion], if they can recognize their actions… I would love to see a bit more awareness, a bit more respect, a bit more acceptance. That is something Ignatius definitely needs going forward, not to mention the rest of the world."
Ticketing information for The Laramie Project can be found at ignatius.edu/drama. The production runs November 11-13th.