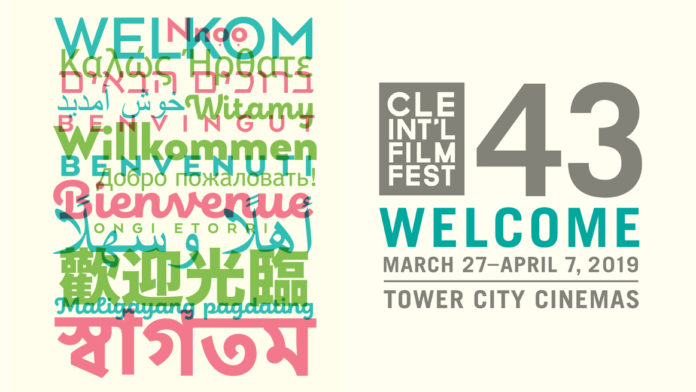 By Alex Gehrlein '19
With the 43rd Cleveland International Film Festival coming up, dedicated moviegoers are about to be treated to a diverse, inventive selection of films from artists both new and old. Festival attendees will be able to catch new films from masters like Werner Herzog or Jean-Luc Godard, as well as directors who have gained some momentum like Christian Petzold, Tonia Mishiali or Matteo Garrone. All in all there is a lot to see and a lot to look forward to with this year's festival, and more to write about than I could ever fit in this article.

In the interest of keeping things to a manageable size, I'll talk about the films I'm looking forward to the most at this year's festival, and plan to see when I attend.

The Image Book
Jean-Luc Godard, 84 minutes

Godard is probably the most widely appreciated "experimental" filmmaker stateside, standing somewhere in the same pantheon as Bergman and Kurosawa for film-buffs. On the forefront of the French New Wave in the 1960s, his films have always focused on politics and human relationships with a medium defying and redefining aesthetic. Everyday filmgoers can thank Godard for such inventive techniques as the jump cut and for inspiring pretty much any filmmaker to ever see a piece of his work.

While I have a much greater appreciation for Godard's earlier films between Breathless and Week End, with Band A Parte being my absolute favorite, his newer films have never ceased to interest and confound. The Image Book looks to be as politically and cinematically motivated as any of his later works, with reviewers pointing at connections to everything from political atrocities to digital filmmaking in its short runtime. As with any of his essay films, Godard's latest has been very divisive, with critics leaning more favorably than they have with much of his recent work. This is the film I'm most excited for at the festival, and the one I expect to leave me with the most to think over.

Meeting Gorbachev
Werner Herzog, 90 minutes

In both his narratives and documentaries, Werner Herzog has a style totally his own when it comes to telling stories. His films tend to zero in on the larger, more transcendent aspects of his given subject, telling the viewer more about life in general than the confines of his material. Whether it's the tragicomic amusement of Stroszek or the awe inspiring spectacle of Fitzcarraldo, his movies always have a certain, indefinable something that bleeds through the film and leaves the viewer speechless.

I'm most excited to see how he manages to work this feeling into Meeting Gorbachev. Consisting of a series of interviews with the former President of the Soviet Union, Herzog's film summarizes and reflects upon the man's rise from farm boy to politician in typical Herzog fashion. I expect to be treated to a gripping series of interviews that will hopefully stand up to the likes of Cave of Forgotten Dreams and Land of Silence and Darkness for their inventive use of the documentary form to tell a story that goes beyond any preconceived expectations.

Pause
Tonia Mishiali, 96 minutes

I'm a big fan of the Greek weird wave. With the works of Yorgos Lanthimos, Babis Makridis, Efthymis Filippou and Athina Rachel Tsangari, we are getting the opportunity to see a new cinematic style: one that is blunt, fearless and forcefully strange. Consequently, I'm up to watch anything coming from Greece these days that falls in line with this new aesthetic.

I hadn't heard of Tonia Mishiali and her film Pause before researching the festival selections, but after reading the description and watching the trailer I can't wait to see what secrets this film holds. Following a housewife in contemporary Greece, Pause depicts the rupture of Elpida's oppressive reality as it blends in with the violent fantasies in her mind. What I've learned from watching other films from this movement is that nothing is ever exactly what you expect it will be, and I cannot wait to be shocked in the way that only films of this kind can.

Transit
Christian Petzold, 101 minutes

In my attempts to seek out a wide variety of modern, foreign language directors, Christian Petzold's name has come up multiple times. Despite this awareness, I have not yet had the chance to check out any of his films. Movies like Phoenix, Jerichow, and Barbara have been recommended to me from multiple sources, all of which make them out to be right up my alley. From my research, Petzold seems to primarily be working in relationship dramas with some sort of twist. The majority of his films have received very positive reviews, and Transit is no different. I'll have more to say when I get the chance to see the film, but am eagerly awaiting the chance to dive into Petzold's filmography.

Dogman
Matteo Garrone, 103 minutes

Matteo Garrone has a wide, varied filmography, but the film that stands out most amongst his work is the 2008 film Gomorrah: a gritty, crime drama following the lives of the many residents in an Italian compartment complex. Gomorrah blew me away upon my first watch, and stands out as one of the most widely praised foreign language films of the late 2000's.

While not receiving the same amount of critical acclaim, Dogman has certainly gotten its fair share of positive reviews. Portraying the upending of the life of a cocaine dealing dog-groomer, Dogman seems to hold enough of Gomorrah's violent criminality to shock the viewer while bringing an unexpectedly surreal sense of humor to the table. This influence could easily come from Garrone's last directorial effort Tale of Tales, which embraced the fantastic elements of traditional fairy tales along with their often overlooked darkness. I don't expect Dogman to overtake Gomorrah's position amongst my favorite films of the 2000's, but I am confident enough that it will leave me shocked in the best way possible.

One Cut of the Dead
Shin'ichirô Ueda, 96 minutes

I have a soft spot in my heart for movies that let you in on the fact that they're movies: films like Adaptation or Monty Python and the Holy Grail, which bring the viewer a little bit behind the curtain, just enough to laugh along with the filmmakers at what we've all decided to take part in. On the other hand, I have a pretty unanimous distaste for "found footage" films (The Blair Witch Project and The Dirties being the two most notable exceptions). With this in mind, I'm eagerly awaiting the fun of a "meta" movie with the tropes of found footage horror in Shin'ichirô Ueda's One Cut of The Dead.

The film is seen through the lens of a group of filmmakers working on a zombie film in an abandoned water treatment facility. To everyone's surprise, a real zombie outbreak cuts in on their filming, and the director insists that the cameras keep rolling during the aftermath. With a premise like that, I can't help but be excited for the film that critics have almost unanimously said "reanimates" the dying zombie genre.