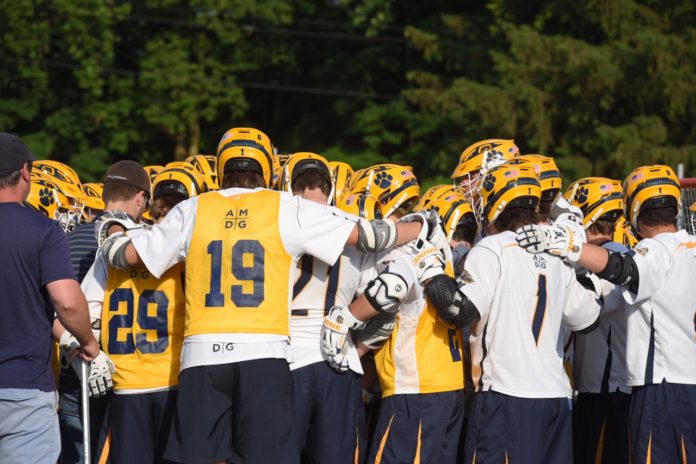 BY TIM ZVONCHECK '19
The Saint Ignatius lacrosse team suffered a heart breaking double overtime loss to Cincinnati Moeller in the inaugural OHSAA Division I state championship lacrosse game.
The game was tied after the first quarter. Gray Gerard '17 and Nate Conry '19 each scored, giving the Cats a 4-2 lead. Moeller rallied back, taking a 5-4 lead at the half.
With about ten minutes left in the game, the Wildcats took a 7-5 lead. Within the next six minutes, Moeller rallied to take an 8-7 lead.
Riley Kinzel '17 then scored to send the game into a scoreless overtime, which then lead to double overtime.
Moeller scored in double overtime, making themselves the state champions on the back of a 9-8 win. While the Wildcats did not bring home a championship, they finished off a great season with a hard-fought championship game, bringing home the state runner up trophy for the second consecutive year.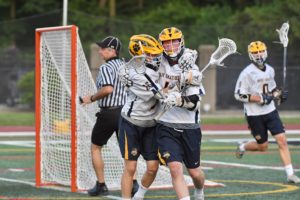 According to head coach Garen Distelhorst '96, "This was not a group people thought could win the championship, but internally, especially after we took Everest Academy and Upper Arlington to the brink, we knew we could do it. The coaches never lost sight of that and the players trusted us during tough patches when many teams would have abandoned ship. I'm just so proud of the entire Saint Ignatius lacrosse family."
While it may hurt to be so close and lose, the effort put forth will not go unnoticed. After a great season and deep playoff run the future looks bright for these Wildcats. Coach Distelhorst agrees: "The future looks really bright. This team got major contributions from the fresh- men and sophomore classes and our rising seniors, this year's junior class is ready to lead. I can't wait to see how next season plays out."