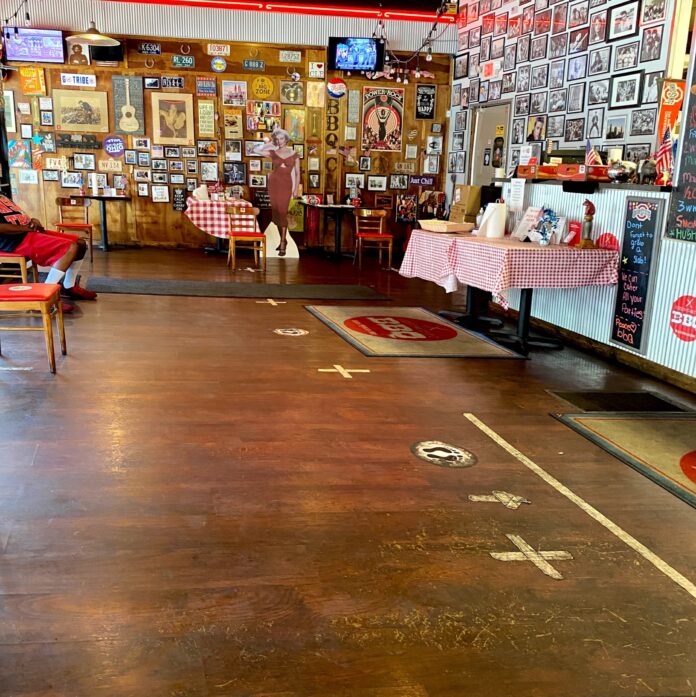 By Christian Durny '23 and Hans Engel '23
Nestled in between a neighborhood and cultural gardens on Lorain, Ohio City BBQ seeks to provide customers with a classic experience not typical of the more alternative Ohio City norm. The building's walls are plastered in early rock-and-roll memorabilia–something noticeable right upon entry. For now, the restaurant is carry out only; no indoor seating which includes an apparent lack of bathrooms. The menu is decently sized, and includes all the items you would typically expect. The service at Ohio city BBQ was exemplary to say the least. Our food came fast and the workers were incredibly nice. The food was moderate in cost: sandwiches were $8-$11, half a slab of ribs was $13, and platters were about 20. While this is somewhat typical, we thought the bang to buck ratio was simply too low.
A large part of BBQ is made up of the sides such as baked beans, mac and cheese, coleslaw, corn bread, and much more. The sides we got at Ohio City BBQ were an insult to the notion of sides themselves. We both agreed that the St. Ignatius cafeteria Mac, and even some well made Kraft mac and cheese, were far better than the mess in front of us. The coleslaw was the equivalent to any supermarket shelf coleslaw, disappointing us as well. The sides were the least "bang for your buck" out of the whole meal at $2 or $3 an item.
Sides are important, but the main course of barbecue, the meat, is what really matters. Barbeque meat itself could very well be considered an art form. Meats must be given a proper rub, seasoned, smoked for hours upon hours at just the right temperature and be tended to regularly. The bounty for this particularly strenuous task is a tender cut of meat with overflowing juices that tastes like a fatty, smoky-sweet explosion among contact with your mouth. After our kabosh with our sides, we were not too enthusiastic about the meat but found ourselves pleasantly surprised with what was in front of us. The meats were juicy and tender, and the flavor was further supported by the sauce, our favorite part of the whole meal. We were provided both a spicy barbecue sauce, and a more typical medium sauce, both of which were incredible. Finally, we tried a Cleveland classic: The Polish Boy, which ended up being a delightful mess of barbeque sauce, fries, dog, and coleslaw.
Overall, if you want some quick barbeque, that also happens to have great flavor thanks to the sauce, then Ohio City BBQ is the place to be. If you would like a full meal, complete with great sides then perhaps elsewhere is your best option, but do not let that get your spirits down. While the entire place as a whole, we rated in the 7's on a ten point scale. We now know the strengths and weak points of Ohio City BBQ. If you go in, and order a pulled pork sandwich, or any meat with sauce on it, your experience could be in the high 8's or even the 9's. So our recommendation is, if you are craving Barbecue and meat, give Ohio City BBQ a try.