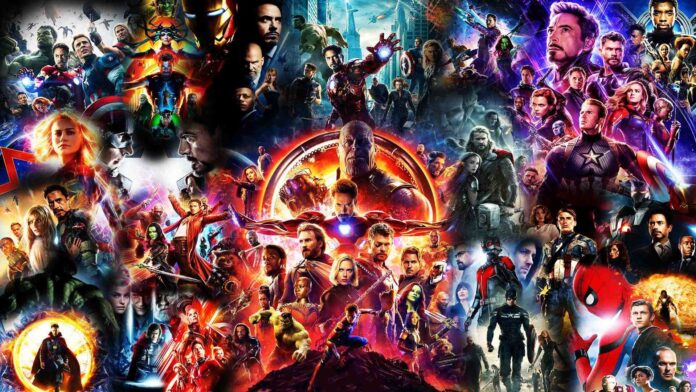 Patrick O'Neill '23
WandaVision officially kicked off the fourth phase of the Marvel Cinematic Universe with its premiere on January 15. Starring Elizabeth Olsen and Paul Bettany, the Disney+ original series allows Wanda Maximoff, also known as Scarlet Witch, and her husband Vision to enjoy the spotlight for the first time. Although the series may seem like a light-hearted comedy at first, the heartbroken and uncontrollable Wanda might have actually created something much more than a fantasy: a multiverse.
What's on the Horizon? 
The multiverse may prove to be a catalyst for the future of the Marvel Cinematic Universe's fourth phase and beyond, with nine other projects planned to be released just this year. Although these dates are liable to change due to COVID and other complications, Marvel Studios is looking to drop the first episode of The Falcon and the Winter Soldier on March 19, 2021. The six-episode miniseries will focus on Sam Wilson and Bucky Barnes (portrayed by Anthony Mackie and Sebastian Stan respectively) as they battle against an anarchist group known as the Flag Smashers. As the first feature film of Phase Four, Black Widow will focus on Scarlett Johansson's aforementioned spy. The summer blockbuster hopes to have a theatrical release on May 7, 2021 after a year-long delay. Loki, a series centered around the fan-favorite "God of Mischief" (played by Tom Hiddleston) is scheduled for a May release as well. Finally, What If…?, an animated anthology series that will focus on alternate timelines, is expected to be released in mid-2021. 
The MCU hopes to diversify its collection of superheroes even further, especially with the introduction of Chinese character, Shang-Chi, as he is forced to confront the Ten Rings organization in Shang-Chi and the Legend of the Ten Rings on July 9, 2021. Also, the Eternals, described by Marvel Studios' President Kevin Feige as "an immortal alien race created by the Celestials who have secretly lived on Earth for over 7000 years", will get their own movie on November 5, 2021. The last Marvel Cinematic Universe feature film in 2021 will be the third Spider-Man installment, which is currently untitled. Actors from previous Spider-Man films such as Andrew Garfield and Tobey Maguire have been rumored to appear as well, further hinting towards the multiverse. The film is scheduled to be released on December 17, 2021. Jeremy Renner is also slated to reappear as Hawkeye  in his own series. Lastly, Iman Vellani will debut as Ms. Marvel, a Pakistani-American teenager with shape-shifting powers, in her own series.
Feige Doesn't Intend to Slow Down in 2022
Doctor Strange in the Multiverse of Madness will star Benedict Cumberbatch as Doctor Strange as he faces off against a friend-turned-enemy. Interestingly, Elizabeth Olsen has also been revealed to co-star. Notably, the film will be the first R-rated film in the MCU, and will hopefully be released on March 25, 2022. Next up is Thor: Love and Thunder, which will include the return of Chris Hemsworth as well as members of the Guardians of the Galaxy. Natalie Portman will return as Jane Foster, who will possibly become her own superhero known as The Mighty Thor. Thor: Love and Thunder is targeted to be released on May 6, 2022. Although it is unknown who will take the mantle after the tragic passing of Chadwick Boseman, Black Panther II is scheduled to release theatrically on July 8, 2022. Brie Larson will return to the MCU on November 11, 2022 as Carol Danvers in Captain Marvel 2. On the Disney+ spectrum, Oscar Isaac and Ethan Hawke will star in a series based off of Marc Spector, who is also known as Moon Knight. Meanwhile, Tatiana Maslany will play Bruce Banner's cousin, Jennifer Walters, who gains superpowers after receiving a blood transfusion from him. She-Hulk has been described as a legal drama, with Mark Ruffalo returning, as well. Both series will land on the streaming service in 2022. Finally, the Guardians of the Galaxy will receive a holiday special in late 2022, just in time for the Christmas season. 
In Development…
Marvel Studios has also revealed plans for some projects in 2023 and beyond. Director James Gunn will return for Guardians of the Galaxy Vol. 3 in 2023. Ant-Man and the Wasp: Quantumania, which does not have a release date yet, will reunite Paul Rudd and Evangeline Lilly as they explore the quantum realm even further. Jonathan Majors has been cast and will appear in the film as Kang the Conqueror, an otherworldly villain who has the potential to cause even more destruction than Thanos. Marvel Comics' first family, the Fantastic Four, also have been announced to have a feature film in development, with no set release date or cast announcements at this time. Samuel L. Jackson and Ben Mendelsohn will reprise their roles as Nick Fury and the skrull Talos in Secret Invasion, a Disney+ series based off of the Skrull infiltration comic saga. Iron Man character James Rhodes, portrayed by Don Cheadle, and newcomer Dominique Thorne, who was recently cast as Riri Williams, will each get their own series, titled Armor Wars and Ironheart, respectively. Although Avengers: Endgame feels like it came out recently, it seems like the Marvel Cinematic Universe is just beginning.