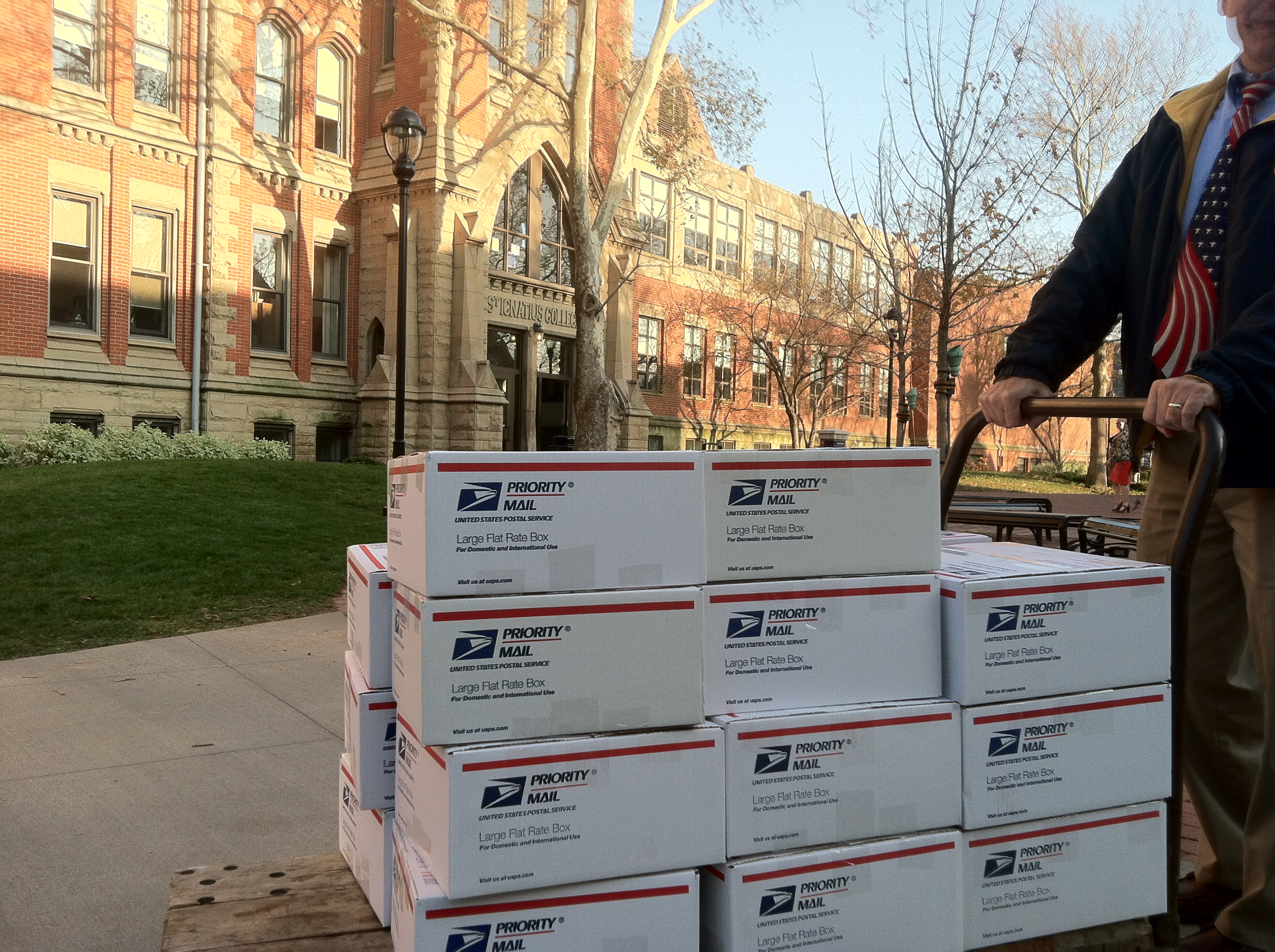 by John Selby '15
The 65 care packages that were recently sent in early November to troops who have been deployed were big success.  These care packages were able to be sent because of the dedicated service of the Saint Michael Company.  The Saint Michael Company's mission is to support, honor, and appreciate the United States Armed Services especially those who have ties with Saint Ignatius High School.  Sending care packages is just one of the ways the company supports the troops, because the members also pray for them at every meeting and write letters of support to them.  In order to truly appreciate and understand the troop's incredible service, the company learns about what they do by watching films, having guest speakers, and receiving letters from the troops about their experiences.  Finally, to honor them, the Saint Michael's Company brings the troop's service to the attention of others by making sure that people understand the importance of Veteran's Day and Memorial Day.
Thanks to the Saint Michael Company's moderator Mr. Marty Dybicz, some meaningful reactions toward the care packages are able to be shared with the Saint Ignatius Community. A recent reaction from one of the troops reads:
"I just got all the Thanksgiving boxes, and I must say I am blown away at the kindness and passion that it took to put all that together. I have shared all boxes with my teammates, and they all extend their sincere thanks and gratitude. It is always warming to know that even in war, there are still people that care back home. I know that every item was well needed, and will be put to good use. Once again I cannot thank you enough for the time that it took and selfless sacrifice for everyone involved. From Afghanistan the 151st thanks you!!!"
Another reaction from someone who provided a troop's name and address reads:
"Our friend in the Army wrote us he cannot believe he received packages with enough items to share with his entire platoon. The timing was perfect. The men just returned from a difficult task lasting a few days. The packages were waiting upon their return. The men celebrated their return with the gifts you placed in the packages. Some of the men cried. This platoon has been in some difficult battles and recently lost a few comrades. Your gifts were most thoughtful. Thanks for showing your support and remembering the troops. Thanks a million!"
The work that the Saint Michael Company does is very important in helping others realize how much they need to appreciate, honor, and support our troops, and the success of the care packages could not have happened without its dedicated members.
Thank you Saint Michael Company, and thank you troops who serve this great country.