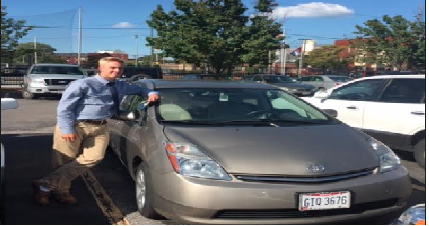 By Andrew Szendrey '17
This is a conversation between myself, Andrew Szendrey, and Pat Ryan ("QB2") about his car which is this issue of the Eye's Fatty Whip!
Andrew Szendrey: Mr. Ryan… Do you prefer Mr. Ryan or Mr. Quarterback?
Pat Ryan: Call me QB2.
AS: QB2, on average, how many miles per gallon does your car get on your morning drive?
QB2: 49.2 mpg in the warm weather, but once it gets cold it goes down to 43.2 mpg because the battery struggles in the cold weather.
AS: Very impressive! Is the battery the only part of the car that struggles during the winter months? I hear that in order to make the turn into the student lot you have to start breaking when you get off the highway. Can you either confirm or deny this rumor?
QB2: Contrary to popular belief, the Prius actually does great in the snow. See the design is very similar to the Mazda racecars so the drifting abilities of the Prius are unmatched. I don't need to break off the highway. The issue is that if I do break the Prius takes a while to get going again because the butterflies and daffodils that power the car don't like to be bothered when it is cold.
AS: Thank you for shining light on the issue of environmental car design! May I ask what the community of Prius drivers is like? Is it a tight-knit community? How much overlap is there between the Prius-owner community and the vegan community?
QB2: Yeah so our weekly meeting for the city of Cleveland is actually at Blossom Music Center on Tuesdays at 7! The community is primarily older women who own many cats (my car was actually inherited from an old cat lady) and just like all jeep owners have a sign they give to each other when they drive by each other, Prius people do too. I can't tell you because it's a club secret. For more info on the club you can go to priuschat.com.
AS: That helps explain why I never see one Prius, they always attack the far right lane in a herd! QB2– thank you for your time and for giving the Ignatius community the inside scoop on what it takes to drive the only remaining evidence of the 1960's!
Note: Priuschat.com is a real website and is vigorously commentated on daily.