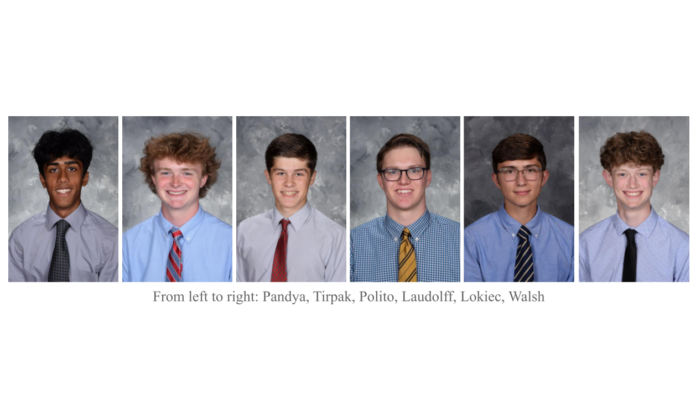 By Seamus Walsh '24
In the spirit of enlightening members of the student body on their Student Senate slate for next year, compiled is some information on each of the members.
Shivam Pandya:
Shivam Chirag Pandya will serve as the President of the Student Senate this upcoming academic year. It will be his second year in the Senate, serving as an elected junior senator this past year. Outside of the Senate, Shivam runs both track and cross country and is involved in the Center for Ignatian Pedagogy, the Pre-Med Society, and NHS. When asked about ways he wants to make an impact, Shivam noted, "I want to make [the] Senate more accessible and more student-driven. There are obviously events that need to happen every year like Homecoming and Christmas on Campus, but I feel that many students have the notion that the Senate works separately from the rest of the student body. One of my main goals is to get as much student input as I can on initiatives they'd like to see, whatever that may entail. If it's feasible, I'm going to do my best to implement it. At the end of the day, the Student Senate is a service and leadership organization and I want to exemplify those two attributes as much as I can, both in my own presidency and in the way the Senate as a whole operates." Of similar importance, his favorite food from Rade Dining Hall is morning donuts. He left me with a valuable quote from Nike, one that he wants to employ throughout the upcoming school year: "Yesterday you said tomorrow. Just do it."
Stephen Tirpak
Due to his membership since freshman year, Stephen John Tirpak is hoping to make a large and informed influence during his time as Vice President of the Student Senate. Stephen will aid Shivam in all operations as well as manning the spirit role of the school, such as within student sections. Athletically, Stephen is a linebacker for the football team, plays on the lacrosse team, and is a two-time intramural basketball champion. The incumbent Vice President is involved with NASA Cats, the Student Research Fellowship, Pallbearers, Labre, NHS, Model UN, Peer Tutoring, and YOSA. Looking forward to next year, Stephen would like to implement more schoolwide activities and spirit events (like Lumberjack Day, rallies, etc.) and encourage more student involvement in service initiatives. "I want to further strengthen the sense of community on campus and our Ignatius Brotherhood," noted Stephen. His favorite Rade meal is the chicken patty. Stephen's precious quote spawns from Andy Dufresne in The Shawshank Redemption: "Hope is a good thing, maybe the best of things, and no good thing ever dies."
Michael Polito
Michael Houser Polito will serve as the Secretary of the Student Senate next year. He has been involved with the Senate since his sophomore year. Michael is involved with the track and cross country teams, Circus Company, Pallbearers, Speech and Debate, NHS, and the Center for Ignatian Pedagogy. When asked about his goals for next year, Mick responded, "I'd like to make the 2023-2024 school year the best it can possibly be by all metrics. There's always something to improve, whether that is making freshmen feel more welcome, making events such as homecoming more enjoyable, or just spreading a culture of caring for our brothers and sisters both within and outside of our community." Surprisingly enough, Michael's favorite cafeteria item is the meatball sub, which is quite an unorthodox option. In closing, Michael leaves the quote "Veritas nunquam perit," meaning the "truth never dies."
Patrick Laudolff
Patrick William Laudolff will serve as the Student Senate Communications Chair for the 2023-2024 school year. This is the first of three new positions in the Senate, with roles that hope to innovate and energize the Senate as a whole. Patrick will handle all communications for the Senate, from announcements to event publicity. Laudolff is involved with Model UN, SIBN, The Eye, and NHS. He hopes to impact the school community by "getting the word out to everyone about Senate events and opportunities." He adores the giant cookies from the cafeteria. His valuable quote is from  Forrest Gump: "And that's all I have to say about that."
Fitzwilliam Lokiec
Fitzwilliam Henry Lokiec is manning the Student Senate Service Chair next year. It will mark his third year in the Student Senate. Fitz runs both cross country and distance track in the winter and spring. He is also a Pallbearer and Labre leader, an Eye contributor, a Magic: The Gathering club student moderator, and a member of the National Honor Society. In terms of duties, Fitz handles all service initiatives, with the Christmas on Campus operations being the largest undertaking. With this coordination, Fitz hopes to "enhance our unique culture of faith, service, and justice at St. Ignatius High School" through his role as the Service Chair. He loves the school pizza, and he leaves you with this quote: "I have set you an example that you should do as I have done for you. Very truly I tell you, no servant is greater than his master, nor is a messenger greater than the one who sent him" (John 13:15-16).
Seamus Walsh
Seamus Patrick Walsh will serve as the Senate Student Life Chair. His realm will include intramurals, campus events, and student-focused events, among others.  This fall will mark his fourth year in the Senate. Seamus plays volleyball and is involved in Pallbearers, The Eye, Yearbook, Academic Challenge, Ignatius Companions, the PCC, NHS, and intramurals. He hopes to make an impact by elevating the enjoyment level of all students — those athletically inclined or not. With fun events and interactive engagements, Seamus hopes to make the year in the Senate pleasant for all students. His favorite Rade item is probably the cookies or the Raspberry Arizona Iced Tea. Seamus' valuable quote, from The Catcher in the Rye, is as follows: "The mark of the immature man is that he wants to die nobly for a cause, while the mark of the mature man is that he wants to live humbly for one."