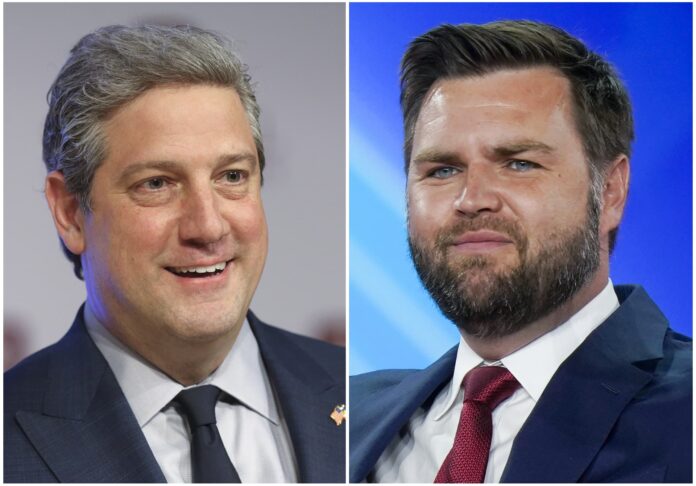 by The Eye Staff
Ohioans go to the polls on November 8th for the 2022 midterm election.  In what is predicted to be a momentous election, there is one race all eligible Ohioans can vote in that is capturing national attention: the race for the Senate seat currently occupied by Rob Portman.  The Eye is conducting a poll to see how the Ignatius community would vote in this race, even for those not old enough to vote in this election.  So take the opportunity to make your voice heard by clicking on the link to this anonymous poll.  The results will be shared along with full election coverage in the next issue of The Eye.  Below you can find endorsements from the Saint Ignatius political clubs if you're not sure how you would vote or simply want to see what your fellow Wildcats think about the election.
Read below to see why Marty Bradesca '23 and the Democratic Ignatians on Politics have endorsed Tim Ryan to represent Ohio in the U.S. Senate.
Tim Ryan believes in a cooperative social fabric, enabling both sides to succeed with special emphasis on workers' rights. For those who worry about far left extremism, Ryan presents himself as a reasonable, middle ground candidate who cares about the people of Ohio instead of his own interests. His commitment to the rights of the working people of Ohio cements this position. For those of us who are about to be pursuing education at a higher level, Ryan's official positions on college tuition assistance found on his campaign website are attractive: "Tim supports expanding access to tuition-free college in exchange for public service, allowing student-borrowers to refinance their loans, and expanding loan forgiveness." This position is favorable not only to those entering the collegiate level but also those who worry about the cost of loan forgiveness by exchanging the free tuition for public service. To help workers and small businesses, Ryan centers his official focus on Ohio: "he's consistently worked to bring businesses and investment to Ohio, to help small businesses keep their doors open during the pandemic, and to cut taxes for businesses that do right by their workers by providing paid leave and other critical benefits." Not only does he keep business going in Ohio, but he also ensures the workers in those businesses are being fairly compensated for their labor. 
While Tim Ryan is certainly attempting to appeal to moderate Republicans who may be dismayed by J.D. Vance's sudden embrace of Trumpism, a key distinction between him and Vance is that Tim accepts climate science and is committed to fighting it all while creating good-paying jobs. For instance, Ryan's official platform states that "With climate change already bringing more intense heat, flooding, and changes to growing seasons for our farmers—along with greater risk of heat death and more unsafe air quality days that disproportionately harm low-income communities and people of color—Tim recognizes that we can't afford not to act." While this may sound like liberal environmentalism, he also pairs this commitment to a desire for excellent manufacturing jobs: "Tim is fighting to cut Ohio workers in on the deal by revitalizing clean manufacturing here at home—so we can supply the world with American-made wind turbines, solar panels, batteries, electric vehicles, and everything else we'll need to power the clean energy economy." 
Given Tim Ryan's faith in Ohio's middle and working class and his common-sense positions, he offers a viable way forward for the Democratic party in Ohio and deserves to be Ohio's new senator.
Read below to see why Connor Kissling '23  and the Saint Ignatius Conservative Caucus have endorsed J.D. Vance to represent Ohio in the U.S. Senate.
J.D. Vance is a venture capitalist, lawyer, author, and budding politician. As he has had no previous experience in politics, Vance is an outsider running to be the voice of the people as indicated by his signature issues: fighting the drug and opioid epidemic, securing the border, restoring America's manufacturing base, fighting inflation, and promoting an AMERICA FIRST foreign policy. Vance is not only endorsed by Donald Trump, but he is also endorsed by former rival and Saint Ignatius High School alum Mike Gibbons '70. If you are a student who is old enough to vote, I urge that you examine the current issues in America right now. High frivolous spending, high inflation rates, and a drug epidemic bigger than no other in history — these will be the problems of our future not too long down the road. Some of them are affecting us now. In order to fight the financial crisis facing our country now, a red wave needs to wash over Congress. These are not wealthy people issues; they affect all Americans. As senior citizens in America are struggling to live on their fixed incomes, we need to cut frivolous spending restricting the markets. The drug epidemic as it not only affects the nation, but it is also an issue that hits close to home. In 2020, Ohio was ranked third in having the most drug overdose deaths in the nation (CDC). So as J.D. Vance is calling out the issues that affect not only the nation but also Ohio, Vote for Vance — the true voice of the Ohio people.