By Carmen Caserio '22
It has been known for some time that Sherwin Williams was intending to build its global headquarters in downtown Cleveland. However, having to gain the approval of city planners as well as the city itself through a three-step design review process, it has taken several months to design and plan the construction of the building. Nevertheless, through the collective work of Sherwin Williams and the city of Cleveland, the new headquarters is ready to break ground near Public Square.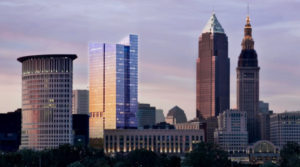 While it has been several weeks since the last significant update reardin the Sherwin Williams headquarters, a new report details the future of the next large construction update in downtown Cleveland. According to 3 WKYC Studios, Sherwin Williams "is holding a virtual celebration event this Friday, January 28" to commemorate the beginning of construction at the site.
Thus, Cleveland city officials passed the newly designed renderings of the structure (pictured above), allowing the company to break ground on the structure. In its entirety, the complex is expected to be fully completed by 2024, incorporating the main office building in conjunction with a pavilion and parking garage. Placed "just west of Public Square between Saint Clair Avenue and Superior Avenue," the building will boast one million square feet of space as well as thirty-six floors, set to become one of downtown Cleveland's tallest buildings (3 WKYC Studios).
The downtown complex is part of Sherwin Williams' attempt to become a major part of the Northeast Ohio economy, additionally breaking ground on R&D Center in Brecksville. Furthermore, the building is the first major addition to the Cleveland skyline since Key Tower was built in 1991. Overall, this new structure will not only bolster the Northeast Ohio economy but revitalize the skyline of downtown Cleveland. This project represents Cleveland's attempt to remain as a prominent Midwest city, thrusting itself into the future.