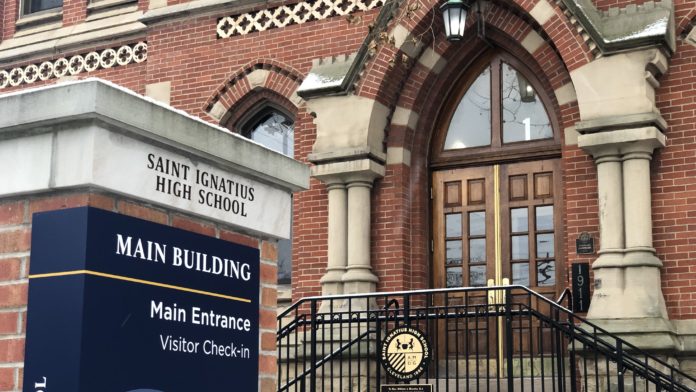 By Seamus Walsh '24
It was a great experience getting to know some of these excellent teachers, tutors, and counselors, and if you see any of these adults at school, say hello and introduce yourself. Now on with the introductions: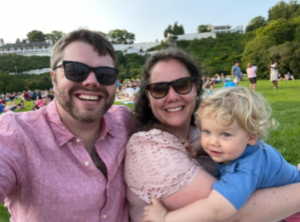 Mr. Andrew Fuchs
Mr. Andrew Fuchs enters the Mathematics Department this year, and he teaches both Algebra I and Honors Algebra II. Mr. Fuchs also contributes his talents to the gridiron, aiding the freshman football team as a defensive backs coach. In 2007, he received an undergraduate degree at Kenyon College, located in Gambier, Ohio, just about a 2-hour drive from Saint Ignatius. Interestingly enough, he played football there with his fellow faculty member and history teacher Mr. Cicetti. He gained a degree in law from The Ohio State University in 2010, and recently got his Master of Education in Mathematics from the University of Minnesota in 2021. In the past, Mr. Fuchs instructed at Mayo High School in Rochester, Minnesota, before making his way back to the Buckeye State in 2020. He currently resides in Shaker Heights with his wife Margaret and his 2-year-old son, Henry. A fun fact about Mr. Fuchs is that he is a licensed attorney as well as a teacher in the state of Ohio.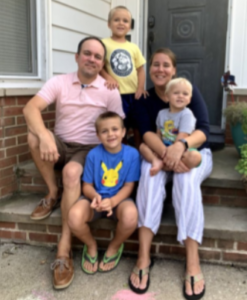 Mrs. Marybeth Heyka
Another new addition to the Mathematics Department is Mrs. Marybeth Heyka. She teaches Honors Algebra I and Geometry. Mrs. Heyka received her higher education in southern Ohio at the University of Dayton. Her past teaching experiences include just across town in Cleveland Heights at Beaumont School, and she has even taught in the Lone Star State, at Cedar Park High School in Cedar Park, Texas. Mrs. Heyka has connections with Saint Ignatius, with 3 brothers graduating as Wildcats. She has 3 children and is a huge fan of Cleveland sports.
Ms. Natalie Partin
The third member to join the ever-expanding Mathematics Department is Ms. Natalie Partin. She teaches Honors Geometry and Algebra II. She received her degree in Integrated Mathematics from Kent State University. Her prior experience was student teaching at Bay Village High School. Ms. Partin has a French Bulldog named Kane, and she is the only member of her family without red hair. 
Mr. Zach Tocchi
The final new constituent of the second floor of the Main Building is Mr. Zach Tocchi. Once again, Mr. Tocchi joins the Math Department. Mr. Tocchi offers Algebra I, Algebra II, and the math elective Java I. Mr. Tocchi went to Revere High School in Richfield and went on to attend the University of Akron. Prior to his employment at Saint Ignatius, he was a teacher at Archbishop Hoban High School in Akron for 9 years! I'm sure he was watching the blocked kick-turned TD with great interest. A fun fact about Mr. Tocchi is that on Twitter, he is followed by both The Ellen Show and even President Obama!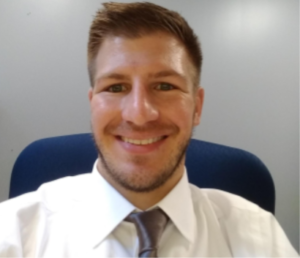 Mr. Doug Hayes
Joining the School Counseling Department in 2021 is Mr. Doug Hayes. He assists students through support of academics and emotional aid. He graduated from Holy Name High School in Parma Heights in 2008. He obtained both his undergraduate and graduate degrees from fellow Jesuit institution John Carroll University, in the years 2012 and 2015. Following his education, he returned to his alma mater Holy Name and was a counselor there from 2015 to 2021. A fascinating point is that Mr. Hayes has over 25,001 pets, including a dog and over 25,000 honeybees! He is quoted as saying he's "working hard to remember all of their names."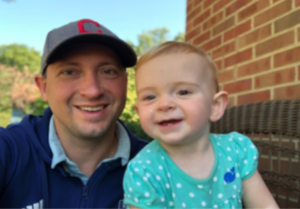 Mr. Kevin Mackey
As the Walton Center has transitioned to the Harold C. Schott Library, it has added multiple members to its cohort. First off is Mr. Kevin Mackey. His official title is an intervention specialist. He has three degrees, including a Master of Arts in Rhetoric and Composition from Carnegie Mellon University, and a Master's Degree in Elementary Education and Special Education from Lesley University. He has experience at Citizens Leadership Academy, where he held a similar position. He also was an intervention specialist at Cleveland Central Catholic for two years. Recently, Mr. Mackey ran a half marathon at the Rocky River Reservation. 
Ms. Dolores Bielecki
Once again another addition to the Walton Center, Mrs. Dolores Bielecki also holds the title of intervention specialist. Although she has been on campus since 2016, this is her first year as a full-time faculty member. She received an education degree and a business finance degree from Baldwin Wallace University. Her former places of employment include The Telephone Company for ten years, a draftswoman, and a foreman. She taught social studies at Strongsville for 25 years. Her connection through Ignatius is her sons, both graduates from the classes of '97 and 2000. She notes that "teaching is a joy" and she is an avid international traveler of the world.
Ms. Cat Geletka
The final addition to the 2021 faculty at Saint Ignatius is Ms. Cat Geletka. She too works within the Walton Center, providing aid as an academic coach. She attended Elyria Catholic for High School and moved onto John Carroll University, where she received her Bachelor of Science in Psychology, and then Ashland Theological Seminary, in which she obtained her MA in Clinical Counseling & Pastoral Counseling. In her past positions, she has "always centered her path around student advocacy and worked in capacities that supported adolescents inside and outside the classroom." Her past positions and locations of employment include: 
Behavioral Specialist, Jesuit Volunteer Corp/Liverpool, UK

Youth Advocate, Moriah House/West Side Catholic Center (right down the street)

Director of Residence Life, Ashland University 

Assistant Director of Residence Life: The Ohio State University 

Senior Program Director, Residential Program and Staff Development: Boys Hope Girls Hope (non-profit working with teens and families intensively)
Her graduate program was non-traditional in the fact that it was 114 credits (typical is between 36-60)! It focused on three different lanes of counseling of others, including a pastoral side featuring God, a secular side, and a clinical side. The student-nicknamed "Coach G" is quoted as saying, "Learning to be a clinical counselor that creates space for God has been one of the greatest challenges and gifts of my academic and personal life." In her graduate program, she worked with people ranging in age from 3 to 82. Ms. Geletka is very excited about being with teens and being here at Saint Ignatius.