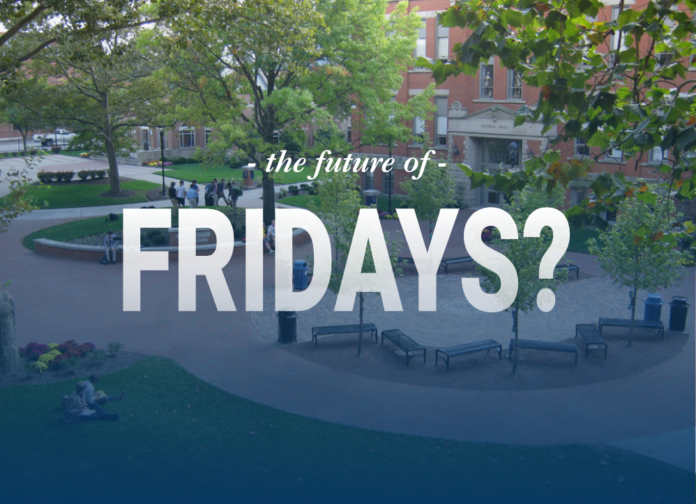 By Aidan Oliss '23
Every week students and staff look forward to Friday and most consider it the best day of the week on campus but what happened to this day and how do students now perceive Fridays on campus?  The popularity of Friday has always been prominent because of the exciting events that occur and the marking of the beginning of the weekend. However, and unexpectedly, many of the popular events that were exclusive to Fridays have been removed and nearly forgotten. These include the famous polo Fridays and games that related to the music theme during the switching times.
These games offered rewards and a fun and competitive challenge to students and their desire to win. This unique style and engaging opportunities Saint Ignatius offered each Friday helped make the repetition of attending school and repeating a similar process for each day less tedious and more eventful. This allowed for a more enjoyable experience for students. Not only was this a fun experience for students, but it also made preparing for school easier and more comfortable. To further elaborate on this, I gathered opinions from three students on the topic of Friday polos and the music theme game.
The first student stated, "Polo Friday was awesome!" and another student said, "I think the removal of polo Friday's was a little bit odd if I'm being honest." While the recurring aspect of polo Fridays has disappeared, the ability to achieve one is still present. This gave students hope and determination, however, the last student expressed the apparent difficulty in achieving another polo Friday that was presented by Mr. Franzinger to the students. The student insisted, "I think the new requirements to get a polo Friday this year are absurdly challenging."
These requirements indicated by Mr. Franzinger are an attempt to make the school a healthier and cleaner environment. Although, the requirements, while instinctively a good idea, are unrealistic and nearly unachievable under the vastly different behavioral patterns of the hundreds of students. It is simply unreasonable to insist that an entire body of students can and will in accordance, follow such expectations in order to achieve only one polo Friday.
While polo Fridays are greatly admired, it is not significant enough to such a large population of students for each of their behavioral patterns to be changed in order to achieve this. Notably, failure for a small group of students to participate in this attempt will nevertheless result in failure for all students as a whole in their attempt. While we may not be able to experience the same feeling polo Fridays used to convey, we can still make an effort to regain a partially and likely temporary feeling polo Fridays used to have by working towards following the necessary guidelines. Even though the actions required may be difficult to achieve for the entire student body, it is still important that we attempt to work towards this.