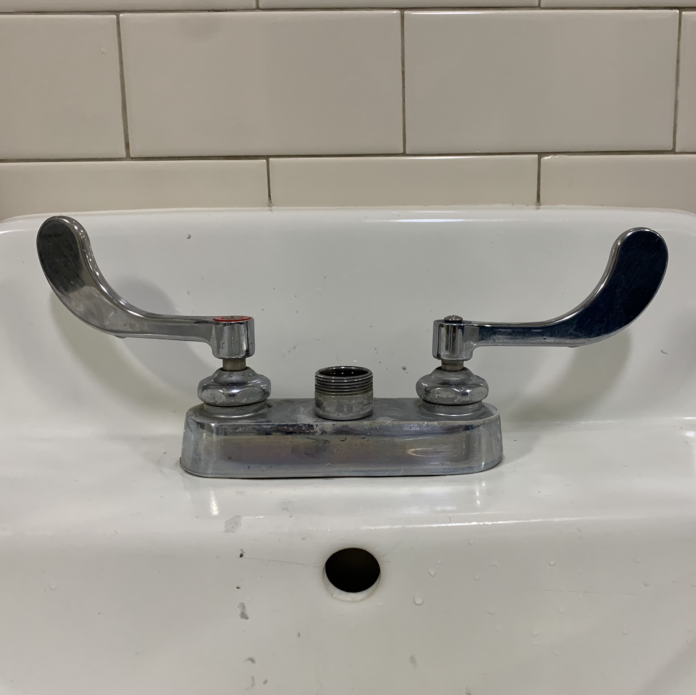 By Nathan Kuczmarski '22
Sometime between last Friday and this Monday two faucets from an Ignatius bathroom vanished. Monday during the lunch period, a larger-than-usual crowd of students circulated through the area commenting on the disappearance. 
"This devious lick stuff is getting out of hand," said one student while another gestured to a sink still with faucets asking "who's gonna help me take this?"
Other students seemed confused after seeing the headless sinks as a senior wondered, "maybe someone's faucet at their house broke and they needed to get a new faucet. That's the only thing I could think of. I don't know how to explain that."
In the search for the cause, Assistant Principal for Student Discipline Mr. Franzinger said "it's probably something that's done for social media attention and popularity. I don't know why else it would be done. Unless somebody has a future desire to become a plumber and wanted to explore some plumbing."
Principal Dr. Anthony Fior lent more information: "I'm familiar with the recent adolescent movement of 'devious lick' and TikTok things where young men who are still trying to find their best selves determine it's funny and/or cool to steal small items-–sometimes large items like buses–-and do little videos, self-serving videos." 
Dr. Fior called the supposed robbery "foolish" and added "should we discover any of our young men, who we hold to higher standards, doing such things there will be some severe consequences." 
In a similar tone, Mr. Franzinger, searching surveillance footage for the perpetrator, said "common sense may be lacking. Appreciation for the school may be lacking. Then who knows, some students may be missing from the community soon." 
Neither administrators revealed any knowledge of the identity of the thief or thieves. However, a video anonymously submitted to The Eye lends more insight.
It seems to take place inside Rade dining hall's bathroom with white text outlined in black on top reading "we just hit an absolute devious lick." A pixelated and barely recognizable face of a boy stands wearing a plaid shirt and the navy tie with wildcat 'I's on it which is dispersed to all students upon acceptance. In the background, a high-pitched, sped-up rap song echoes as the cameraman shifts to the boy's hand. He grips a silver gooseneck-shaped faucet then lunges for the decapitated sink's left handle letting a flood of water rocket into the air splashing against the mirror. The person can be seen through the warped reflection jumping back then quickly leaning forward again with one hand outstretched to turn off the water. The video then ends, all in under 10 seconds. 
This fall, students across the country have decided to take up petty theft as a pastime and share their finds on the social media app TikTok. This event seems to fit with the movement.
The phrase in the video "devious lick" was coined to describe the loot attained stemming from the phrase "hit a lick" which is defined by Urban Dictionary as "a successful type of theft which results in an acceptable, impressive and rewarding payday for the protagonist."
The videos are popular with over 900 million views under #lick on TikTok. Some categorize the videos as harmless pranks, but others take greater issue as they could potentially be misdemeanor or felony theft if prosecuted.
In addition to legal issues, Director of Campus Operations, Mr. Derek Egnatowski, estimated the price to replace the commercial-grade faucets could be "anything between $300-$400 each." He continued, "when you get labor involved and the time spent, it's easily going to approach a thousand dollars" for the two sinks. 
He also noted that supply shortages may limit the speed of replacement. "So the parts may be available but it could be an 8-10 week lead time. In that case we're just going to try to replace the whole faucet instead of the missing or damaged parts."
"We now have to spend money, so that all takes away from us contributing our time and our budget towards–whether it's repairing worn out equipment, beautifying the campus, which we're preparing to do now with the Fall coming, and all of that."
As for student discipline, Mr. Franzinger considers various options given the trend's influence on the event. "Should it be more severe because someone didn't have the guts to reject one of these stupid trends? Or should it be less severe? Or neutral?"  
Mr. Franzinger then threw in "who knows, maybe I did it." He laughed as he added, "through the secret entrance to the restroom." 
"I just think it's stupid," Dr. Fior said as he broke into laughter.