By Jack Slemenda '21
On January 6, 2021, as a mob of pro-Trump supporters and right-wing extremists stormed the United States Capitol, members of Congress huddled in secure locations while police struggled to secure the building. Among them were two Ignatius graduates–one Democrat and one Republican–who would both go on to play an integral role in the current impeachment proceedings against former President Donald J. Trump.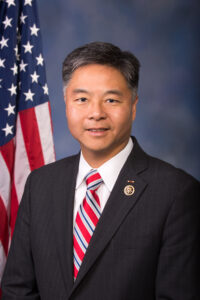 Representative Ted Lieu (D-California) graduated from Ignatius in 1987, and earned a degree at Stanford University before studying law Georgetown. Prior to his election to Congress in 2014, Lieu served in the US Air Force JAG Corps, and continues to serve in the Air Force Reserve.  Mr. Michael J. Howard taught Lieu freshman year for World History and then as a senior for AP United States Government and AP Comparative Government.   As a senior, Lieu was recognized by the History Department for outstanding scholarship.  "He was obviously an exemplary student," recalled Howard, "and it doesn't surprise me that he went on to do all the things he's done since then."
On January 6th, Mr. Howard–a self-described political junkie–and his wife were watching live as the electoral votes were counted by Congress. "As we were watching this unfold, the screen suddenly became split, and I could see a huge mob roaring up the Capitol steps,"  Howard said.
As the Capitol building was stormed, security immediately evacuated those in the Cannon House Office Building, including Representative Lieu.   Once Lieu reached his designated safe spot, he went straight for his phone. After contacting family members to let them know he was safe, Lieu reached out to his former government teacher.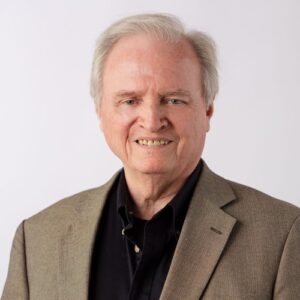 Howard, glued to the news coverage, was horrified by the actions he saw.  "It looked like something you would see from a country we would be criticizing because their system was no longer working," said Howard.  "I found it totally alarming." 
"At that exact moment, I got a phone call, and I heard this voice that said 'Hello, Mr. Howard, this is Ted Lieu.  Talk about shock!   So, I picked it up and he said I just wanted to call you because I saw that you had retired, and wanted to congratulate you and ask you how you were doing."
"Well, Ted, I'm doing fine," Howard replied.  "But more importantly, how are you doing right now?"
The conversation between former student and teacher lasted about 20 minutes.  "I did tell him that I was a little bit alarmed that he would finally call his government teacher on the day the government appeared to be breaking down," Howard quipped.
Shortly after their conversation, Lieu and several House colleagues began drafting the an article of impeachment against Trump for inciting the Capitol Insurrection.  "Make sure history records that Ted Lieu left the building, called me, and then impeached the President of the United States," joked Howard.
Howard and Lieu remain in contact and hope to reconnect in Washington, D.C. for lunch once the pandemic subsides.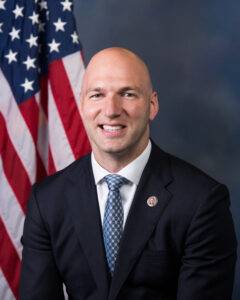 Another Ignatius alum, Rep. Anthony Gonzalez '03 (R-Ohio) was also impacted by the events of January 6th. Gonzalez, a 2003 Ignatius graduate, attended The Ohio State University.  After a successful college football career and five years in the NFL, Gonzalez earned an MBA from Stanford before entering politics. After the Capitol Insurrection, Gonzalez was one of ten Republicans who voted to impeach Trump after standing by him throughout his presidency. In a statement, Gonzalez argued the President "helped organize and incite a mob that attacked the United States Congress" and that his actions and "lack of response as the United States Capitol was under attack" left him no choice but to support impeachment. Gonzalez faced considerable criticism for voting against his party and is widely expected to face a primary challenge in 2022.    
Howard was proud of Gonzalez's decision. "He stuck his neck out quite a bit. He's going to take a whole lot of flak for that.  It was a courageous move," said Howard.   
"It says something that reach of Ignatius is never going to end in these people's lives," Howard remarked.  It goes to show that the lessons and formation our famed Alma Mater provides do influence our later lives, whether openly or as the quiet moral compass we hold in our hearts.
Stay tuned for an exclusive video recording of the interview between Mr. Howard and Jack Slemenda '21 on the story of Ted Lieu and the Capitol riots.