The 85th Ohio High School Speech League state finals were hosted by Jackson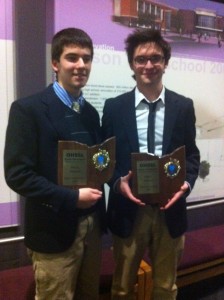 High School on March 1-3, 2012.  There were more than seven hundred students in more than eleven speech categories and three debate events representing ninety seven schools and six districts.
At the end of the tournament Alex DeWitt '12 had advanced to the semi final round of Prose Interpretation. Andrew Beddow '14 and his partner Sean Lavelle '14 finished in 5th place in Policy debate while Prithvi Pendekanti '15 and Daniel Counihan '13 ended with a 3-3 record in the early rounds. This was Prithvi's first year competing in debate.
But the most exciting news of the day was Cameron Colella '12, a runner up last year, and this year' partner Kevin Pucci '14 becoming the 2012 Policy Debate champions with an undefeated record of 9-0!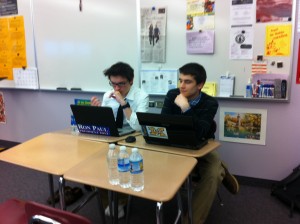 This is Saint Ignatius' fourth state championship in Policy Debate (2001, 2004, 2006).
Congratulations to all the young men that participated: Nathan Peereboom '12, Dylan Waickman '12, Dan McCarthy '12  and Kadeem Yorke '13.
Thank you to Mr. Fujimoto for his hard work throughout the year and especially the support of the families, faculty and Ignatius community for your support throughout the very long and difficult forensic season.
Good luck to Cameron, Kevin, Sean, Andrew, Dylan and Daniel when they represent Saint Ignatius and the North Coast chapter of Ohio in Policy Debate and Duo Interpretation at the National Forensic League finals in Indianapolis, Indiana this coming June.