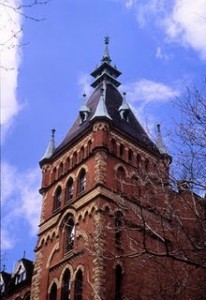 The 84th annual Ohio High School Speech League finals were held at Toledo Whitmer High School on March 3-5, 2011.  There were more than 80 schools in attendance and 800 + students participating in various events.  At the end of the day Saint Ignatius had many reasons to celebrate.
David Eapen '11 was the 2nd place winner in International Extemporaneous speaking. Cameron Colella '12 and Jonathan Dokler '11 were the 2nd place winners in Policy debate after 10 rounds.
Alex DeWitt '12 advanced to the quarter-finals in Prose/Poetry along with Dylan Waickman '12 and Dan McCarthy '12 in Duo Interpretation. Nathan Peereboom '12 participated in Linconln-Douglas debate and finished in the Sweet 16.
Congratulations to all the boys, Mr. Buzzelli, and Mr. Fujimoto for a successful season.  Good luck to David, Cameron and Jonathan at the National Forensic League finals this June in Dallas, Texas.