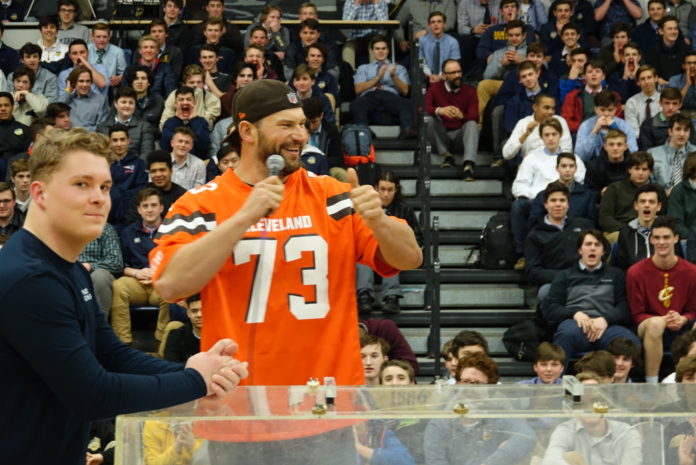 By DAVID McDONALD '19
Students and faculty crammed into Sullivan Gymnasium on Tuesday March 6th to observe the 80th Annual Scholarship Drive drawing. After being delayed for four days by a snow day, the drawing finally took place with the three winners being announced and the five top-selling students being honored. But the highlight of the event was undoubtedly the appearance of Cleveland Browns offensive lineman Joe Thomas to pick the winning tickets and offer his commentary on the drawing.
Every year as the Scholarship Drive ends and the drawing comes near, students are buzzing with speculation about who may be the guest ticket-drawer. This year was no different but students may have been surprised to see Mr. Cicetti bring the future Pro Football Hall-of-Famer and the most beloved member of the Browns into the drawing. On top of his legendary play on the gridiron, Thomas has gained notoriety recently for his candid off-the-field remarks made on his Twitter and his podcast. Never shy to comment on the state of his team, Thomas brought this same humor to Sullivan Gymnasium.
When the student-seller of the grand prize ticket, Mike Hilbig '19, answered Thomas' question of where he'd give the prize money with, "the Browns," Thomas replied with "We need all the help we can get." Thomas also joked when Alexander Brunkholz '20 walked down to the court for selling the third-place prize to a chorus of boos, "Congratulations, you are now the least popular person at St. Ignatius."
Thomas isn't the first famed athlete to be the guest drawer for the Scholarship Drive. In 2014, Ignatius alumnus and then Browns quarterback, Brian Hoyer '06, pulled the winning tickets. And in the last two years, Zydrunas Ilgauskas, whose jersey is retired by the Cleveland Cavaliers, and the Cleveland-native UFC champion, Stipe Miocic, were the special guests at the drawings. On top of the prize money, the chance of meeting a local superstar certainly serves as incentive for students to sell tickets.
This year, not only did the winning students get to shake hands and take a picture with the celebrity ticket-drawer, they were subject to commentary that could only be made by Joe Thomas. Thomas is much more than a meathead football star, his humor and wit made him the perfect star to be invited for the drawing. Anyone who missed the event can find a video broadcasted by SIBN on the St. Ignatius website.
The Scholarship Drive drawing begins with every student hoping that they may have sold or even bought a winning ticket, but it ends with only three lucky winners. But even the fifteen thousand students who didn't win got to enjoy the appearance of a legendary athlete and a local hero.