By FERENC SOMOGYI '21
"…We must defend culture and the gifts of those who create. And if we do this, more young boys and girls can be able to begin their journey with 'one little note' and end up in a love affair that will last a lifetime."
With these passionately delivered words coming from how his journey in the arts started with learning to play the flute, fine arts teacher Richard Fujimoto '66 accepted the Magis Award from Saint Ignatius on Sunday, December 3rd, along with retired fine arts teacher Arthur Thomas, at the 2017 Saint Ignatius Christmas Concert.
Mr. Fujimoto and Mr. Thomas were honored before a full house in the splendor of Severance Hall and saluted with applause from generations of Ignatius men, their families and many benefactors of the school. The teachers spoke out about the importance of the fine arts in education as a counterpoint to math and the sciences. Their intelligent and humorous speeches made a strong statement about their life's work and dedication.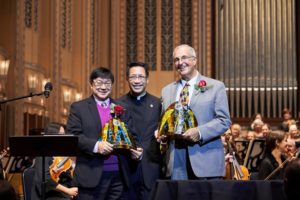 The Christmas Concert is one of Saint Ignatius's most important fundraisers, now in its thirty-third year. It takes place annually at Severance Hall, with the world-renowned Cleveland Orchestra and Chorus performing a variety of classic and popular Christmas pieces. The audience accurately represented Saint Ignatius's breadth of supporters –- brand-new freshman sat next to graduates from decades before, dispersed among parents, friends, faculty, Jesuits, and benefactors of the school. A catered dinner was provided for key patrons of the program, and even Bishop Nelson Perez was there for the celebration.
The Magis Award is Saint Ignatius's highest honor, bestowed upon those who have generously given to the school in some way. In Latin, "Magis" means "more." Saint Ignatius of Loyola used it to denote "the spirit of generous excellence." Mr. Thomas and Mr. Fujimoto received the award because of their extensive contributions to our school's enriching and still-growing fine arts programs.
As Mr. Thomas said, "Arts are not a fluffy diversion in our lives, but rather… an essential part of our lives." In a time when fine arts are being cut from the curriculums of many schools across the country to make for room for other classes, Mr. Thomas is thankful for teaching at a school that embraces the arts. Rev. Raymond P. Guiao, S.J. '82 pointed out, with gentle humor that brought a chuckle from the audience, "Rising far above his Saint Edward pedigree," Mr. Thomas was an integral part of Saint Ignatius Fine Arts – he served as an English teacher, Fine Arts Department chair, the first Breen Center Facilities Manager, and founder and moderator of the Saint Ignatius Circus Company, among other positions. Of his Circus Company, Mr. Thomas says that "It is one of the things of which I am most proud… because it is 100 percent student-driven."
Mr. Fujimoto shared a funny, but very relevant, anecdote with the audience at Severance Hall on Sunday. He said he got a flute the summer before his freshman year at Saint Ignatius, only knowing how to play the "C" note when he joined the school's marching band. At the first football game of the year, Mr. Fujimoto remembers only being able to play the "C", but playing it with gusto, nonetheless!
"It was so good that if we had had dabbing back then, I would've dabbed," Mr. Fujimoto admitted. Mr. Fujimoto has been teaching at Saint Ignatius for over thirty years, during many of which he worked with Mr. Thomas. He has been involved in all parts of the Fine Arts Department, and a few of his current duties are English teacher, drama club moderator, and speech team coach. In his speech, Mr. Fujimoto contributed more to the argument that Mr. Thomas had begun, underscoring that the fine arts were essential for all students to learn.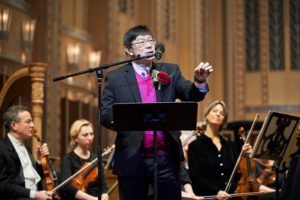 "How do we know about those who came before us? How do we know the thoughts and values of our ancestors? …How will anybody who follows us know who we are? Only through the arts." Mr. Fujimoto invited us to all be advocates for the arts.
Both teachers have served Saint Ignatius in profound ways… and greatly deserve the award they received. They are true role models of Men for Others. The fine art of teaching is demonstrated in all that they do. Mr. Thomas and Mr. Fujimoto share a passion for the fine arts and yearn to pass on this love.
Let us not be silent. Let us pick up the torch and vow to fight for their cause. We applaud their success.
This past episode of PodCats features Mr. Fujimoto and his story of being a young student at Saint Ignatius in the 1960's.