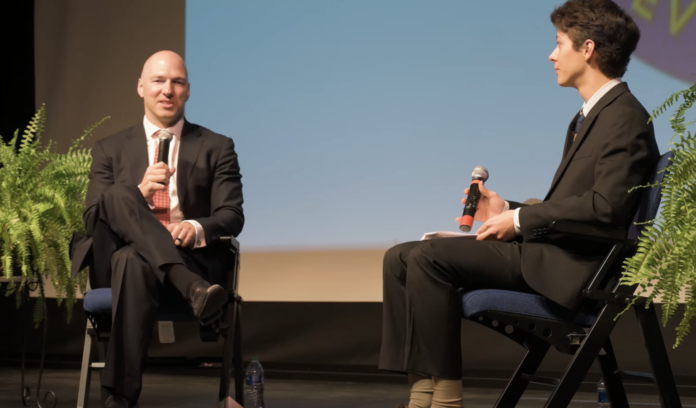 By Terry McCafferty '22
Last Tuesday, Representative Anthony Gonzalez '03 who represents Ohio's 16th Congressional District returned to give remarks on "the Future of American Democracy" and participate in a conversation guided by questions submitted by members of the Saint Ignatius community.
Here are ten takeaways from the event:
10. One student uses a creative method to sell Scholarship Drive tickets
Of the 97 questions that were submitted for the event the first question was from MJ Sebring '24 and it became the first question posed to Rep. Gonzalez: "Would you like to buy some scholarship drive tickets?" Grinning as the audience laughed, Rep. Gonzalez said, "Where is he?" and pointing said, "Yes." After the interview, Sebring took the first place in line to meet the Congressman and sell him his tickets. As far as creative ways to sell tickets for the Scholarship Drive go, this could be hard to beat.
9. Rep. Gonzalez loved his English teachers and Fr. Ober.
When asked if he had any favorite teachers from his time at Saint Ignatius, Rep. Gonzalez mentioned three of his English teachers, all of whom are still teaching at Saint Ignatius nearly 20 years later: Mr. Kyle, Mr. Pasko, and Mr. Arko. Praising the school's English Department, he said that his desire to study Philosophy in college came from the writing and language background he gained in high school. He also mentioned Fr. Ober, who he called "the smartest person" he's ever met while saying that he had too many wonderful teachers at Saint Ignatius to name.
8. The 2016 Election triggered Rep. Gonzalez's run for Congress.
"The thing that sparked it maybe more than anything," Rep. Gonzalez says, "was the 2016 election which was the most divisive election which I have ever seen. I just thought to myself, I think we need different leaders with a different perspective. Who understand how to work with people across divides and set common goals and then go achieve those goals. And so, I will go try to be the type of politician that I don't see out there–that I wish I saw more of."
7. Rep. Gonzalez's political career is not over.
After his children are older, Rep. Gonzalez says that he would consider running for office again. Until then, he says being a congressman does not fit well logistically with the life he wants to have with his family. Until then, he says he will stay involved by supporting candidates who share his values with his time and money. When asked if he would run for president, he says he would probably not ever run for president, but does not believe in closing doors.
6. "We have to be zealots for the truth."
In his remarks, Rep. Gonzalez said that the health of democracy requires us to be "zealots for the truth." When asked about the claims that were made that the 2020 Presidential Election was fraudulent, Rep. Gonzalez said, "80 some cases were brought before courts all over the country. Not a single one was successful. Not one. You are forced to believe one of two things: either every court in America is corrupt, I don't believe that, or the claims don't have merit."
5. Rep. Gonzalez discusses the decision to vote for impeachment.
When asked about his vote to impeach former President Donald Trump, Rep. Gonzalez said before he entered politics he set two lines for himself that he would be unwilling to cross: doing anything that would threaten U.S. national security or doing anything that would fail to protect the U.S. Constitution. When he came to the conclusion that the president's actions had crossed a line, what Rep. Gonzalez felt he had to do next was clear.
4. His number one priority in his remaining time in office is The Brycen Gray and Ben Price Covid-19 Neurological Impact Act.
One student, Adam Bornhorst, wrote "to thank Rep. Gonzalez for introducing 'The Brycen Gray and Ben Price Covid-19 Neurological Impact Act.'" Bornhorst says that, "Both of these people tragically ended their lives after having COVID. Brycen was a 17 year old from Strongsville OH. This Act will give funds for urgent research to better understand how and why the direct link of Covid to mental illness." When these thoughts were shared with Rep. Gonzalez, the congressman said that making sure this legislation gets passed on "behalf [of Brycen and his family] is the most important work [he is] going to do between now and the end of [his] term."
3. New details were shared about his January 6th experience.
In the interview, Rep. Gonzalez recounted his experience of the attack on Capitol on January 6, 2020. When he started seeing the first objections he says, "I felt an anger and a disgust. Then I saw what was happening on Twitter and my thought was 'well, I should probably go back to my office'" In the interview, he talked about barricading himself into his office, the harrowing phone calls he had with his family, and the note he left for his wife in his desk in the uncertainty of how the day would end. His retelling of that day both tragic and historic was incredibly compelling and is worth watching on your own.
2. Participating in democracy at least by voting, especially in primaries, is our responsibility.
In his remarks, in which he talked about the future of American democracy, he said that one of the most important things we can do as citizens is to be involved. At a minimum, he believes that citizens all have a responsibility to vote, especially in primaries. "The battle for these parties takes place in the primary system," Rep. Gonzalez said, "We believe in dignity, we believe in Ignatian values, now where are the people seeking elected office that feel the same?"
1. "He loved his family more than anything, and he fought hard for what he believed in."
The final question posed to Rep. Gonzalez was, "When it is all over, what do you want them to say about you?" The answer he gave, while simple, said it all. "He loved his family more than anything, and he fought hard for what he believed in."
"If that's all I'm remembered for," he said, that's good enough for me."
Thank you to all of the students and faculty who were able to participate in this event by submitting questions, attending, or both.