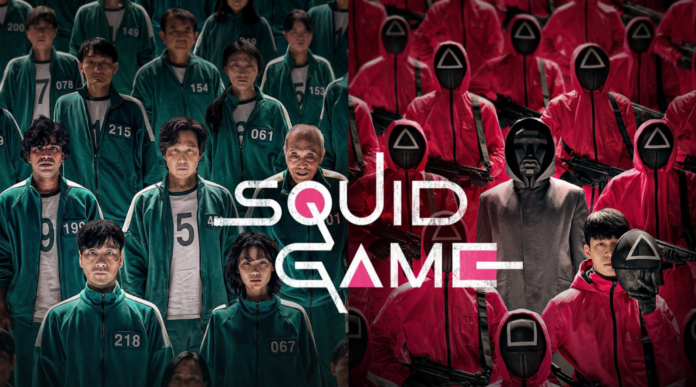 By Young Kim '23
The new Netflix show, Squid Game, has taken the world by storm. According to Netflix, as of the time of this review, 142 million accounts have watched Squid Game, making it the most popular Netflix original series of all time by over 50 million accounts. It has been and will still be the talk of social media for the foreseeable future. Things the audience may have missed, various theories, and talks of a season 2 have the audience captivated ever after completing the show. While this is impressive, it is also 100% deserved. Squid Game is a masterpiece show filled with drama, action, high emotions, plot twists, symbolism, occasional humor, and most importantly, it is something that alludes to the problems of modern society. 
The basic premise of Squid Game is that 456 people with massive debts are invited to participate in a "game" with no additional details initially explained, and with money offered as a reward for winning. The "game" itself is a bizarre oxymoron-a series of six games, all Korean children's games, but being eliminated from the game means death. As a result, we are able to witness what happens when the bottom of society are forced to compete against each other. We will come to know the characters, their backstories, their reasons for being in the game, and see how they develop from being in such a horrifying ordeal. Themes of immigration, honor, family, friends, loyalty, conspiracy, social inequality are always present in the decisions the contestants must make. Coupled with a great story line filled with plot twists, Squid Game will always have you at the edge of your seat. 
Squid Game was also created and directed by Hwang Dong-hyuk, to highlight what he believed is a growing issue in South Korea, the increasing wealth gap between the rich and the poor due to a "beastly" capitalistic society. By creating a premise of a simple game, the audience is able to focus more on the characters, people who we may remind us of someone we know or know of, and also to highlight what the bottom of society are willing to do for money. Juggling this complex issue, and not to mention the brilliant acting, a very fitting soundtrack, the captivating art and set design, and a flow which allows the show go from disturbing situations to black comedy and vice versa, Squid Game is a masterpiece which integrates all of these elements into something extremely entertaining but also thought provoking. My only complaint would be that there is sometimes too much unnecessary violence, which is a subjective matter.
If you haven't watched Squid Game already, I highly recommend you do so whenever you have time. Not only is it incredibly entertaining, spoilers are already making their rounds across social media, and it is only a matter of time before it is considered socially acceptable to openly reference clear spoilers from the show. 
All in all, I would rate Squid Game a 9.5/10.