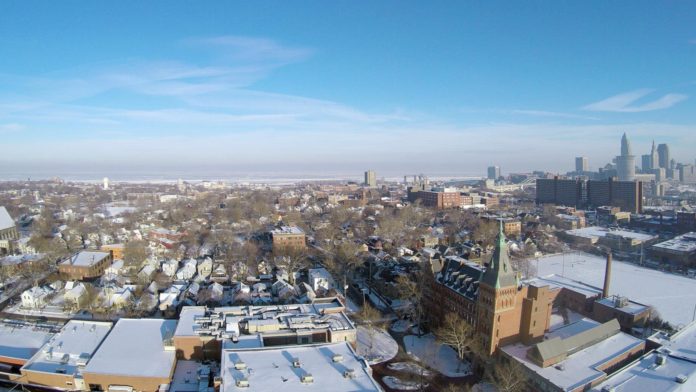 By Terry McCafferty '22
For the first time in sixteen years, there is a competitive race for the next mayor of the City of Cleveland. The two final candidates Councilman Kevin Kelley, the current president of Cleveland City Council, and Mr. Justin Bibb, a non-profit executive, both participated in wide-ranging interviews with The Eye in which they discussed everything from how their election would impact Saint Ignatius High School to the Cleveland Scholarship Program to issues related to the Labre community that the school works to serve.
Kelley introduced himself as a husband and father of five daughters. A graduate of Saint Edward High School and Marquette University, Kelley has spent 15 years as a social worker and 16 years on Cleveland City Council, 8 of those years as its president. As a social worker, he said he "worked with a lot of our community reentry type programs [with] people coming from the criminal justice system trying to get people a path to live in the community instead of living in the criminal justice system. The last position I had was working at Recovery Resources, with this population of mental health consumers stuck in the criminal justice system. [I would work] with the judge and probation to find a path forward."
Bibb introduced himself as a 34-year-old "millennial running to be the next mayor of Cleveland." Calling to mind his roots in the southeast side of the city, Bibb said he was the son of a cop and a firefighter. "Before running for office, I spent time as the Vice President of Corporate Strategy and KeyBank, I currently serve as the Chief Strategy Officer at Urbanova, a national nonprofit. I've also spent time at Global Cities at Gallup advising mayors across the city," Bibb said.
Because he is a young person, Bibb said that as mayor he will "have a unique view on what our generation wants to see in the next mayor." For example, he indicated that he cares about what "we can do a better job of attracting the next generation of talent and retaining that talent in Cleveland." With the entire region determined by the future of the city, Bibb wants "to make Cleveland a destination for you guys when you graduate high school."
Kelley also spoke of Cleveland as an "economic engine of the region" which "affects every resident of Northeast Ohio." In analyzing the state of the regional economy, Kelley said, "We're coming out of two recessions in ten years. We are faced with an economy we've never been faced with before. We have a situation where those who were already struggling before COVID got hit the hardest, and if you look at this so-called recovery, the people that are recovering are generally people at the higher end of the economic spectrum, people that have professional degrees, they're doing okay. It's women, it's people of color, it's people that work in hospitality that are the folks still struggling."
Through the lens of Saint Ignatius' Labre Ministry to the Homeless, both candidates were asked about what actions they would take as mayor to address problems related to shelters and housing that impact people who are struggling on and off of the streets. Bibb replied that he would "call for a greater role of the city to tackle our homeless issue with the county. We should be exploring a kind of housing first policy that you see in cities like Houston and San Diego."
Kelley replied, "The biggest problem to me with the shelters is the hours that they keep. It's very difficult to get there before doors close and then you need to be out really, really early in the morning when the cold and the elements are still there." He went on to say that, "We have taken giant steps forward in establishing public supportive housing. The real difficult people that, if you've gone out, you've seen them. There are those that don't want the help and this is really where we're stuck." Kelley said that Cleveland Metropolitan Housing is a good actor and that there are a few nonprofits that do a decent job, but there are not that many people providing low-income housing because it's expensive and hard to do. "There's got to be a different solution," Kelley says, whether it is repurposing vacant abandoned homes from our existing housing stock or something else entirely.
Both candidates were educated at Catholic high schools in Northeast Ohio and Kelley, who also went to a Jesuit college, worked in the Jesuit Volunteer Corp at the West Side Catholic Center. It was during that time where he met his wife. Reflecting upon his time there, Kelley said that it helped him see and understand the struggles that people were going through.
"It kind of creates a lens that you look through things at," Kelley said. "When I was a young person, you know, I struggled as well. My father passed away. We lost our family home. We'd been on public assistance. So being able to have that lens and when you see somebody that's in a tough spot, not judging them" is important to Kelley.
Eventually, he says he felt called to do more through public service. "I learned something at a certain point, a light bulb went on, that the real decisions were being made above me," Kelley said. A big part of that is what programs get funded and which ones do not, decisions which, Kelley says, someone at some level has to make.
Bibb also talked about the impact that a Catholic High School education had on him, saying, "I really enjoyed my time at a Catholic High School. It really rooted me in community service and my faith. I remember taking a liberation theology class and learning about the sacrifice of Oscar Romero and other amazing Catholic leaders who have been on the front line and social justice and it's that inspiration that I continue to have in this race to be the next mayor."
An issue related to private education which both candidates were asked about is The Cleveland Scholarship Program which gives families with incomes less than 200% of the federal poverty line a $7,500 education voucher. Opponents say it drains money from already struggling public schools while others would say that it gives lower and middle-income students the opportunity to attend schools like Saint Ignatius, an opportunity that they otherwise might not have. Kelley voiced support for the position of the Supreme Court that it is constitutional, but he said that a balance has to be struck so that money is not drained from public schools. He does not want the program to expand for that reason, but he also does not want the program to be eliminated because of the schools, parishes, and communities that rely on it.
Bibb first answered by directing the focus away from the voucher program toward for-profit charter schools saying, "I would say we need greater accountability in this state to crack down on for-profit charters that prey on public schools. However, it's important that parents and families have choice and I want to create an environment in Cleveland where we have competitive public schools for all of our families to trust." When asked again specifically about the voucher (which many Cleveland students at Saint Ignatius use), he said, "I think that we need greater scrutiny around those types of programs to ensure that it doesn't undermine public schools in Cleveland."
Throughout the interview, Kelley gave in-depth answers displaying his extensive knowledge of the city operations and presented himself as one who much prefers the hard, often unrecognized and unostentatious, work of governing rather than campaigning. Bibb, on the other hand, both in the interview and throughout his campaign more generally, has embraced rhetoric of promise, vision, and hope to present himself as a transformational leader with the urgency to bring the city into a new era of governance.
I asked each of the candidates about the weaknesses they have framed each other of having for Kelley, his experience in the status-quo, and for Bibb, his lack of experience in elected office. Kelley said, "if I were my opponent, I would say the same thing because they don't have anything else. So of course they're going to come up with something." Kelley also pointed to the work that he has done on council including starting Lead Safe, putting in place an eviction prevention program through CHN Housing Partners, and establishing the right to counsel for indigent defenders, to say that he has experience in getting things done.
Bibb on the other hand pointed to his endorsements from Senator Sherrod Brown, the Plain Dealer, Crain's Cleveland Business, and prominent clergy as evidence that he is prepared for the job. "Although this is my first time running for public office," he added, "I have a broad base of experience working in county government, working on Capitol Hill, working at some of those prominent companies in the country, at KeyBank and Gallup. And then I've had a number of significant board leadership positions including being on the boards of RTA, Destination Cleveland, and also serving as a Co-Chair of Teach for America, for Ohio. So I think my experience speaks for itself."
When asked for final thoughts, both candidates closed with calls for young people to get involved in politics. Bibb said, "Even though you might be young, get involved early in politics. I got my start working on the John Kerry for president campaign in 2004." Kelley likewise said, "I would tell people your first absolute step towards exerting any power that you have as a part of this great democracy is to vote. I would encourage everybody, it is getting increasingly hard to get good people to choose, to run for office. If you feel it's a calling in any way, then please do it because the bench is very, very shallow right now."
The Cleveland mayoral race is only one of the numerous local races in Northeast Ohio including a number of competitive Cleveland City Council races. When asked about those races, Kelley said "I'm going to need a strong council to get through. The obvious [races] that I'm watching are Wards Four, Seven, and Thirteen, because those are open seats." Bibb replied that "Honestly, I'm really interested to see how the council president race shapes up." He declined to share additional details on how he hoped it would.
Before the Mayoral Primary, in which the original field of seven candidates was narrowed down to two, The Eye did a survey of student support in a non-scientific, voluntary response poll. Bibb and Kelley finished first and second respectively, as they did in the actual mayoral primary.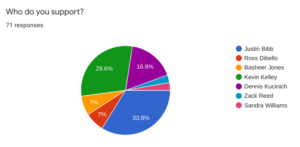 On November 2nd, Cleveland once again will go to the polls and decide which one of these two candidates will be the one to lead the city into the future.