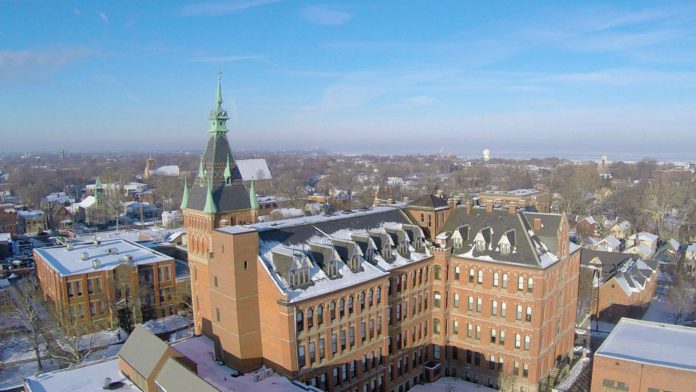 By Seamus Walsh '24
With the pandemic shaking our school and nation and altering not one but two academic years at Saint Ignatius High School, it has got me thinking about the future of this cherished institution. More specifically, what would the school look like 100 years from now in 2121?
Before answering this question about Saint Ignatius, imagining what life would be like on the world stage is integral. Of course one of the most interesting effects of the passage of time is the growth of the human population. The United Nation's most likely projection for population would be around 11.2 billion people! But that is just on the planet Earth. With the new rover Perseverance making its descent onto the Red Planet just under a month ago, one must assume that human beings should not take too long to explore onto Mars, and maybe other planets in the solar system. It is almost impossible to predict how much our world will change over this long period of time, but this change is welcomed as our world evolves
Now turn and look towards the beloved school in Cleveland, Ohio. Will it be able to withstand the test of time? All signs point to that it will. Saint Ignatius High School has thousands of alumni and other friends who support the school with monetary donations, and those alumni will have children to repopulate the school in the future. Saint Ignatius will have no problem garnering enough money and pupils to keep the school running. Perhaps at one point the school may accept women. As crazy as this may sound for all-boys school,  I firmly believe that it is entirely possible. With Catholic school education slightly declining, in order to keep up with public schools Ignatius will open the door to females in the school system. This major transition will probably take a while and may not happen, but it could be a possibility. 
Other major transformations would occur inside the classroom. With technology ever-changing and advancing and the ease of laptops and the internet, Ignatius may switch to all online work. Even today paper tests, worksheets and textbooks are falling out of mainstream classrooms. Time will only reinforce the idea of using laptops for schooling. Maybe some "old-school" teachers would continue to use paper, but finding one of these teachers would be few and far between. This switch to computers would have many profound effects, including the option to attend school virtually (similar to now), a complete change in the way we think of school, and also the school having a smaller effect on the environment. With less paper being "wasted", trees and habitats would be saved from destruction. Also any chalkboards inside the classroom would be thrown away, for they would retain no use. Overall the normal Ignatius classroom would undergo many changes.
Changes would most definitely occur to the campus. Although the Ohio City neighborhood is tough to convince when it comes to allowing our institution to expand (which is totally fine),  Saint Ignatius would logically have some changes to their campus and facilities. I predict a bridge or tunnel bypassing Lorain Avenue would be quite likely when it comes to changes on campus. This would allow safe and speedy travel from the main campus to the Breen Center, the MAC, and other locations across the street. It would also allow traffic to continue without any interruptions. One could also foresee a mega stadium being built for Ignatius. With Ignatius' home field in Parma, many have wanted to see it come home to Ohio City. But with restraints and pushback by residents, rightly so, they have been prevented. But one would guess in the next 100 years there will be a stadium built right here in Cleveland, Ohio. Structurally, Ignatius as a campus would change a great deal.
It is definitely apparent that Ignatius will undergo a lot of change in the next 100 years, significant or not. I look forward to seeing how Saint Ignatius High School will innovate during my time as a student, and how it will revolutionize when I return as an alumnus.