By Alec Stimac '19
Columbus, Ohio. Saturday. 11:00am. The Ice Cats enter Nationwide Arena ice rink, the same place where the Columbus Blue Jackets will play later that same day. Helmets on, jerseys on, puck down. Looking at Dublin Jerome High School, they were ready. It's time.
Swish, the puck goes by. Slash, their sticks hit the ice. Set, the win settles in. Game over.
Screams from the stands and chants from our school's student section find their way to those young men's ears – those twenty+ guys who worked hard for that moment who were standing on a sheet of ice. So surreal, it hasn't even soaked in. That is the story, but what an experience.
This past Saturday was not only a long term goal for the Saint Ignatius Ice Cats, but a dream that became a reality, winning their fourth straight OHSAA hockey state title. They are the first team to ever win that many consecutive championships in all of Ohio. Additionally, Coach O'Rourke tied with Gilmour at #1 in the Coaches' Poll this year. With a record of 27-9-1, they were going into the past Frozen Four strong and with stride. The team got off with a fast start, already scoring 1 goal a little over a minute into the game. That same energy was held throughout the rest of the 3 periods. The team never let up.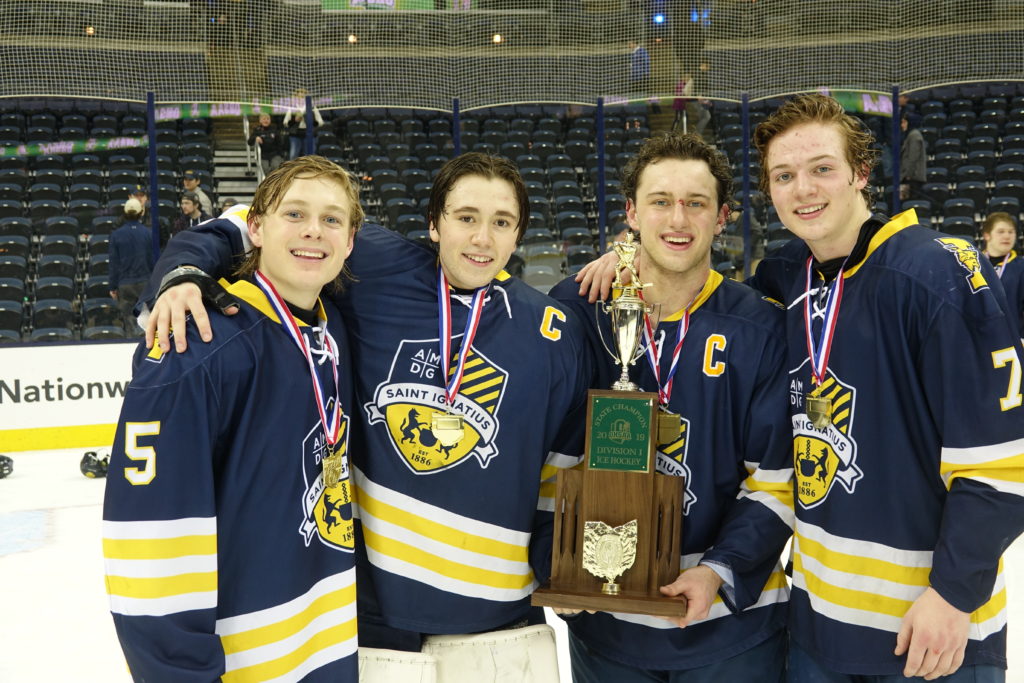 The Ice Cats took a 2-0 lead at 8:07 of the first period, a good lead to have in hockey, and a warning sign to Dublin Jerome. Just 20 seconds into the second period, Joey Trobenter scored a goal for Saint Ignatius to take a 3-0 lead on the game-winning goal. At the end of the day, the Cats held their own throughout the game, ending with a 7-2 score.
Seven goals are the most scored by Saint Ignatius in a state championship game. When I talked to Coach O'Rourke before states, he said, "We finished up our regular season at 21-9-1, with our Jesuit Cup championship in Chicago being a major highlight. We also finished #1 in the MyHockeyRankings figures. Now, we are just gearing up for States." The team stayed on top and they sure did prepare for a monumental game in the history of the OHSAA.
To the players, Coach O'Rourke thanks you. "They work hard every day, they put the time in, they make all the passes, score all the goals, block all the shots, deliver all the hits, and prevent all the goals. This feat belongs to them and to those who came before them; they are all part of a nice tradition and a true family. It's been my pleasure to watch them grow this year and to take this journey with them."