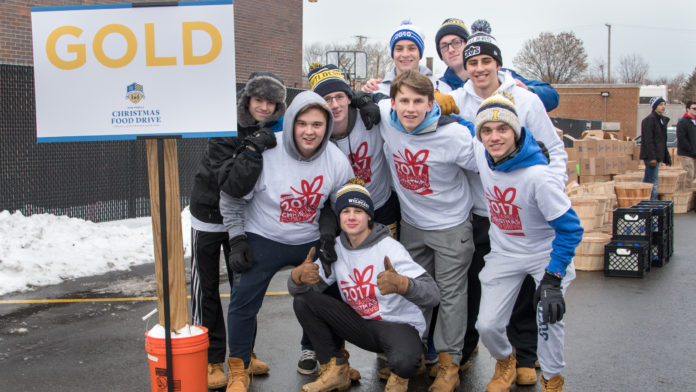 It's been an up and down December with the usual Ohio weather, Cleveland sports, (and maybe a few grades moving around). But, there has been one constant the past few weeks: The Rini Family Christmas Food Drive Core Team.
The Core Team, composed of students from all four classes, has dedicated a healthy chunk of time to help organize, advertise, and support the food drive the past few weeks. With their unwavering support, time, and man hours, the food drive is gearing up to be a great success!
So, I wanted to give these students an opportunity to share a little bit of themselves: their music preferences. This week's playlist is curated from responses I received from some of the Core Team, so thank you to those that responded.
All I Want for Christmas Is You by Mariah Carey
Carry on Wayward Son by Kansas
Somebody To Love – Remastered 2011 by Queen
OMG by Usher, will.i.am
Sit Next to Me by Foster The People
Mr. Blue Sky by Electric Light Orchestra
I Will Always Love You by Whitney Houston
American Pie by Don McLean
If I Told You by Stephen Lynch, Laura Benanti
Pennies From Heaven by Louis Prima, Sam Butera & The Witnesses
All Star by Smash Mouth
Hips Don't Lie by Shakira, Wyclef Jean
Honeymoon Avenue by Ariana Grande
Piano Man by Billy Joel
Baby by Justin Bieber
The Sweet Escape by Gwen Stefani, Akon
Total Eclipse of the Heart by Bonnie Tyler
2009 by Mac Miller
Happy by Pharrell Williams
Take Me Home, Country Roads – Rerecorded by John Denver