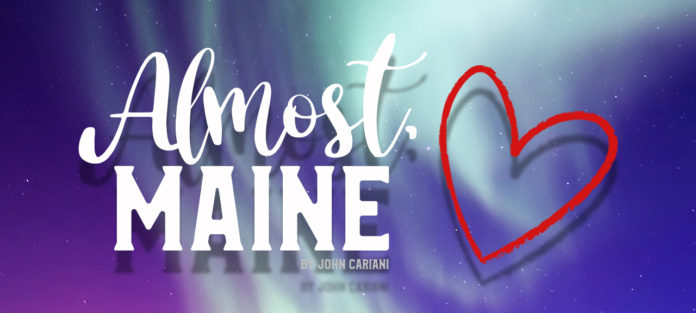 Welcome to the first installment of "Playlist of the Week". A (hopefully) weekly collection of songs you might like to listen to.
This past weekend was host to the Saint Ignatius Harlequins' fall production of Almost, Maine. A show filled with laughs, tears, and raw emotion, Almost, Maine set a new standard for Mr. Hoover's era as director of the drama program.
Didn't get the chance to experience the show? Within the next physical issue of The Eye will be a review to catch you up on what you missed. But in the meantime, give the playlist a listen or two.
This week's Playlist of the Week is a collection of songs used throughout the production. Hopefully, it will take you away to a place where life is a little bit different: a place that's almost.
Also shout out to the entire cast, crew, mentors, and any others involved with the production for putting on such a great show!
Full Tracklist:
Brothers Under the Bridge by Martin Simpson

Song for Dax by Dylan Ryche

Glory Days by Bruce Springsteen; Friends in Low Places by Garth Brooks

Swept Away (Sentimental Version) by the Avett Brothers

Rest Your Way Home by Lance Allen

Marry Me by the O'Neill Brothers Group (acoustic)

Lyin Eyes by Martin Tallstrom

Oh Darling by Stephen Bennet

Dancing in the Dark by Eddie Burman

My Arms Were Always Always Around You by Peter Bradley Adams

Follow You Down by Gin Blossoms

Tubthumping by Chumbawamba

Mmmbop by Hanson

Come to Me by the Goo Goo Dolls

No Expectations by The Rolling Stones

Home by Edward Sharp & The Magnetic Zeros

There She Goes by Sixpence None the Richer

You're Gonna Make Me Lonesome When You Go by Miley Cyrus

Ho Hey by the Lumineers

Sweetest Thing – The Singles Mix by U2

Furr by Blitzen Trapper

Woman by John Lennon

I and Love and You by the Avett Brothers

Ring of Fire by Johnny Cash

Unchained Melody by Norah Jones

What's the World Coming To by Fleetwood Mac

Buckets of Rain by Fistful of Mercy