by Noah Virant '20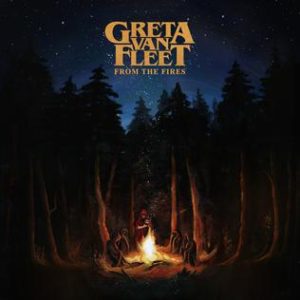 The sounds of Led Zeppelin, Rush, and more of the classic rock greats are back, embodied by three brothers and a friend from high school – all under the age of 23. Three Kiszka brothers – Josh (vocals), Jake (guitar), and Sam (bass) – and Danny Wagner (drums) all hail from Frankenmuth, Michigan. As they began to find their footing in the local music scene, they embraced their early influences such as Led Zeppelin's Jimmy Page and Robert Plant, John Bonham, Eric Clapton, and more.
From the Fires is technically Greta Van Fleet's second album, as they released the album Black Smoke Rising which is no longer available. The EP contains eight tracks, of which two are covers: Sam Cooke's "A Change Is Gonna Come" and Fairport Convention's "Meet on the Ledge" both being tasteful covers of their originals. The other six tracks were written by the band, four of which coming from Black Smoke Rising.
The band's sound varies throughout the EP, mostly due to each member wanting to play a little bit of their style. With songs that come with a hard rocking sound like "Talk on the Street" or the blues-rock "Flower Power." But the two tracks that immediately catch the attention of listeners, "Highway Tune" and "Black Smoke Rising," are where the influence of Robert Plant and Led Zeppelin truly shine in Josh. The former is the kind of song you'd hear blasting from a 60's Ford Mustang cruising through the Geneva-on-the-Lake strip (go check that place out some time next summer), while "Black Smoke Rising" brings a vibe similar to a late summer bonfire.
Overall, this EP is a must listen for anyone who enjoys the sound of classic rock, especially if you've lost some faith in the future of rock.
Heads Up: Greta Van Fleet's debut studio album Anthem of the Peaceful Army is slated for release on October 19th of this year.