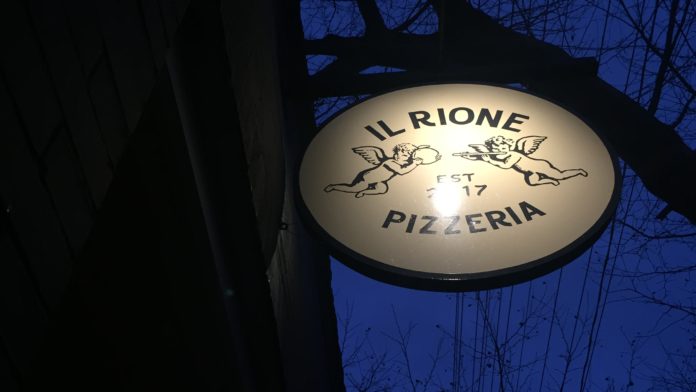 By Daniel Drellishak '20
In December 2017, Il Rione Pizzeria was opened in the Gordon Square neighborhood of Cleveland. The two owners include Ignatius graduate, Brian Moss, and a current Ignatius employee, Mr. Brian Holleran. With Mr. Holleran being from New Jersey, he has found the Cleveland area lacking one key food, pizza. Not just pizza, but New York style pizza. This lack of New York style pizza sparked an idea in Mr. Holleran. Why not bring the taste of authentic New York pizza to Cleveland by opening up a pizzeria? He did just that by buying an old, beat up apartment building and renovating it with a rustic, modern feel that is very welcoming.
What separates Il Rione from other pizza shops is the charred crust and the tasty sauce. The crust obtains the charred texture from the brick bottom oven. This special oven separates Il Rione from its competition simply because of other shops using the simple conveyor belt method, which excludes further development of the crust flavor.
The menu selection is very specific and brief. Reasoning behind this decision is so that every item that appears on the menu is the highest of quality. If crazy toppings, sauce, or crust is your thing, then you will not find it here. Only the best quality is served and that is what you get in Il Rione pizza.
Ever since the opening in December, business has been better than expected, said Mr. Holleran. On the weekends the shop tends to have one to two hour waits and the lines are out the door! Limited refrigerator space means limited dough, so they tend to sell out very quick. The service is fantastic and the environment is New York-esque. I would recommend visiting the pizzeria in the middle of the week to avoid the big lines on the weekends. Overall, Il Rione earns my five stars. Go check it out and bring your friends and family.