The season has only just begun for the Wildcats but we have already seen what seems to be two different Wildcat teams. The Wildcats are off to 3-2 start to their season with losses to Cornerstone Christian, a solid div. IV team, and the highly ranked Solon Comets who proved they are an outstanding basketball team in their fourth victory of the season defeating the Wildcats 72-54. The Wildcats proved themselves capable of keeping up with the high class teams after defeating Cleveland Heights in a huge victory for the Cats.
Taking a look back at their loss a week ago to Solon: Yes, Solon is an outstanding basketball team. Led by Sincere Carry, and three other returning starters, Tony DeCesare and his Comets have something to prove after their District Final loss last season. This season's Comets are set up by an elite set of guard players. These guards caused nightmares for the Wildcats last Saturday Night. Sincere Carry had 14 points at halftime as the Comets took a 20 point lead at halftime. Jon Barnes scored the first 7 points for the Wildcats and looked to be heading towards another dominating night just as he did at Cleveland Heights. After a 20 point halftime deficit, Wildcat shooters began to get desperate. After a short stint of hope to start the second half, the Wildcats were never able to catch back up with the Comets. The Wildcats played Saturday night's game in very ill conditions with multiple players feeling extremely under the weather and it undoubtedly showed. Coach Becker's Wildcats are a fast pace team that should have been able to keep up with a speedy Solon Comets team much better than they did a week ago, even without the athleticism of injured Chase Toppin. A completely healthy and healed Wildcat team would be able to put up a fight against the Comets.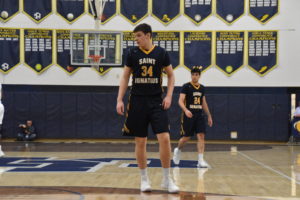 What to watch for
A fully healthy team:  It's something the Wildcats have been looking for since week one, and a team that should be back this Saturday vs. Canton McKinley. Chase Toppin is set to make his return after missing the past week of games nursing an ankle injury. Chase is key to the uptempo play of the Wildcats, someone who would have been very valuable against the Comets.
Senior leaders: Jon Barnes, Neeko Melendez and Dom Dinunzio are unquestionably three senior leaders that will have to keep up impressive play for this year's team to be successful. We saw a peak of what type of play these three players can create against Cleveland Heights. When these three guys draw attention to themselves it opens up the rest of the floor for the rest of the team. The key for this team to be successful is finding a rotation that works, and finding consistent play that does not allow an extreme off game like against Solon. When these three players have a solid game, the team will have a solid game. These three players need to step up and take charge as the Wildcat schedule continues to heat up.
Holiday season slate: The Wildcats are slated to play five games before classes resume January 8th making one fun holiday vacation for Wildcat Basketball. It all kicks off Saturday night as Canton McKinley comes to Sullivan gym for a 7pm matchup. Last year the Wildcats traveled to Canton where Matt Davet orchestrated an amazing fourth quarter comeback which fell just short of victory. The Wildcats will look to come back from their loss at Solon with a hard victory in Sullivan Gym. Following Christmas the Cats will be back for another home game as Warren Harding comes to Sullivan Gym. The New Year's Eve tradition will continue this year, this time in Akron as the Wildcats will take on an improved St. Vincent-St. Mary back at the home of Lebron James. University School will make a trip from the east side for CYO night at Sullivan gym on Jan. 5th.
The Wildcats will finish off their winter break schedule the next day with a trip down to Erie to take on Erie Cathedral Prep who are off to a 4-0 start for their season.
The tough stretch: The Wildcats will be put to the test in a stretch of four difficult games kicked off with a matchup at John Carroll University against Westerville South who took the Div. I State Championship back home to Columbus in 2016. The first matchup with St. Edwards will be at Sullivan gym January 20th. Arguably the best team in Northeast Ohio, Garfield Heights, comes to Sullivan Gym  January 26. Garfield has been tested by Shaker Heights and Benedictine so far this season. The Wildcats look to be another team to challenge a very talented Garfield Heights team. Following the Garfield Height, Cleveland Central Catholic will stop by Sullivan gymnasium concluding a rough stretch of games in the month of January.
Whether or not the Wildcats will be able to keep up with teams in this long stretch of tough games depends on which basketball team decides to show up. If we see the fast paced offense, speedy, athletic Wildcats we will see some really good high school basketball over the next month or so. Now that the Wildcats are getting fully healthy, the rest of December and January should be interesting.