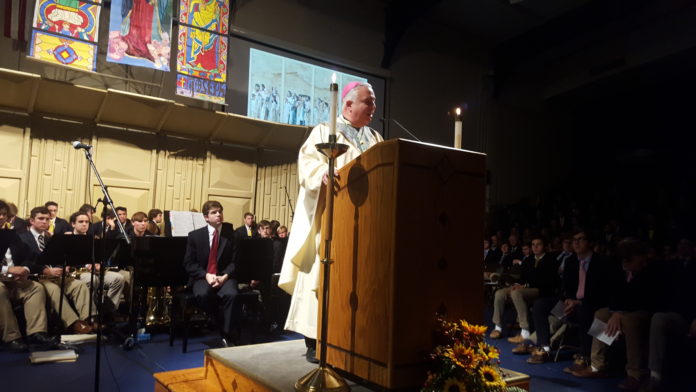 By FERENC SOMOGYI '21
"Be close to the Eucharist. Celebrate the Eucharist. Go to Mass… and let the presence of God's word and the presence of Christ and the Eucharist speak to your heart."
This was Bishop Nelson Perez's advice to all Catholics, especially Catholic high schoolers, imparted during an interview for The EYE on Wednesday, November 1, when Bishop Perez visited Saint Ignatius for breakfast, a school tour, and the Mass of the Solemnity of All Saints.
The new Bishop of the Diocese of Cleveland visited Saint Ignatius as part of his effort to go around to all the Catholic schools in the area and to form connections with the people of Cleveland.
In addition to being close to the Eucharist, Bishop Perez encouraged Saint Ignatius students to stand strong by their values. In the future, Bishop Perez noted, today's youth will be the future of the Church. Its development and destiny lie in their hands.
Bishop Perez's profound messages began in the morning at eight o'clock during a breakfast with a small group of students representing Student Senate, C.A.T., and the Multicultural Student Union.
"It's like a mini United Nations here!" Bishop Perez exclaimed as the students took turns telling him about themselves. Represented were nationalities ranging from Hungarian to Lebanese. Bishop Perez, in fact, is the son of Cuban immigrants.
"[Cuban culture] is a very Catholic culture. It has helped me appreciate diversity," Bishop Perez said regarding his heritage. When asked about being Cleveland's first diocesan Hispanic bishop, however, Bishop Perez said that "I'm a priest for all. I am no different, but because of my heritage I am able to serve a significant area of the Catholic Church."
Bishop Perez later mentioned during his interview with The EYE that he plans to serve all of Cleveland's Catholic nationalities "by being present to them and at the same time making sure that they can be who they are… to celebrate their faith through their culture, because… faith is enshrined in our culture."
During the breakfast, Perez and the students also touched on important matters including today's radical subjectivism, listening for God's calling, and the reality that Pope Francis regularly uses the microwave, too.
"He's not an it, he's a human being," the bishop said. Bishop Perez had the opportunity to live in Rome with Pope Francis for a week. Perez has also met Pope Benedict XVI and Pope John Paul II, who the bishop said literally emanated light.
After the breakfast, Father Guiao took Bishop Perez on a tour of Saint Ignatius. The bishop explored important parts of the campus like St. Mary's Chapel and the Marian Mall but also dropped in on a few classes.
The most awing part of Bishop Perez's visit was later in the day at the Mass of the Solemnity of All Saints, which the bishop himself celebrated. There he stood at the alter in Sullivan Gym with a huge, student made icon banner draped behind him, surrounded by dignified, respectful Ignatius men in blue blazers. It was a spectacular sight.
The Mass was inspiring in many ways, especially Bishop Perez's homily. Together with the students, Perez explored what it means to be a saint and that one doesn't have to be canonized by the Church to be holy.
"I always thought that saints were a different breed, but I came to understand their stories and learned that their hearts were enflamed with the love of Jesus. I learned that we are all called to be saints," the bishop said.
Bishop Perez left the students of Saint Ignatius with this message: to be forefront in the Church and to be active, but to never forget to show gratitude to those who got them where they are.
"Live life fully and leave a mark. You must decide the future."
After Mass, Bishop Perez departed Saint Ignatius to address the next part of his busy schedule. His visit was monumental and meaningful for our school, and we hope to invite him back as often as we can.