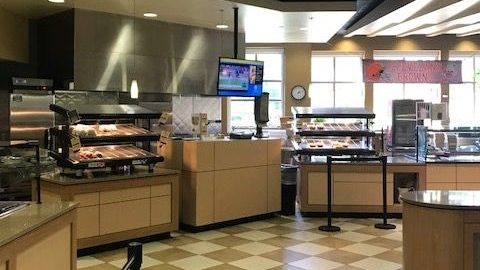 By DAVID McDONALD '18
When Saint Ignatius students come back to school every August, everyone is looking for what's new. And the most important updates every year, for a lot of the students anyways, are found in the cafeteria. This year, hungry students may have noticed some stations were moved around, new plates and cups, and some new products added. But the most discussed change might be the price increase on certain foods, particularly at the burger station.
This summer the price of the standard quarter-pounder was bumped up to $2.00, noticeably more expensive than $1.75, the price the past few years. When asked about this price increase, David Turska, Director of Campus Dining, said the markup on burgers was due to a few factors: the natural increase of food and labor costs, higher-quality ingredients, and more local food providers. Turska stated that students should be excited about the new burgers because they are locally sourced and are of very good quality. But he also boasted that other items in the cafeteria were less expensive this year, like the beloved chicken patty.
Not all students are pleased with the new pricing. Junior Patrick Eppich told the Eye that he has found it more difficult to find an affordable lunch in the cafeteria. "I used to be able to get a $3.50 meal every day, now it's harder put together a full meal when there is no meal option that day," said Eppich. Turska said the removal of the everyday $3.50 meal was due to low demand for the option. "The pizza station and the action station were the most popular options for students," said Turska, noting that the new layout of the cafeteria, with those options on opposite sides, reflects that. Turska also asserted that students can still find a meal for $3.50 by buying a few different items in the cafeteria. The new sandwich cooler featuring Boar's Head meats might be one place to look for some of those items.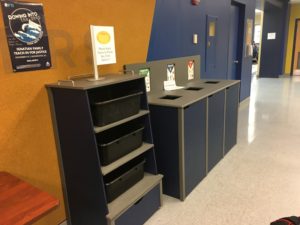 Food was not the only thing that got modified over the summer. The cafeteria made changes to the dining-ware to make plates and cups fully compostable. It's part of an effort to make campus dining less wasteful. These updates resulted in a 400% increase so far in the amount of trash being composted in the school. And more compostable items are to be introduced this year. These items in addition to the new reusable plates have eliminated much of the waste from school lunches.
A lot of the updates to the cafeteria should please students and administrators by focusing on sustainability and giving the students the food they buy the most, with more efficiency and higher quality. But students looking for balanced meals on a budget might find it a little harder to obtain their old favorites.