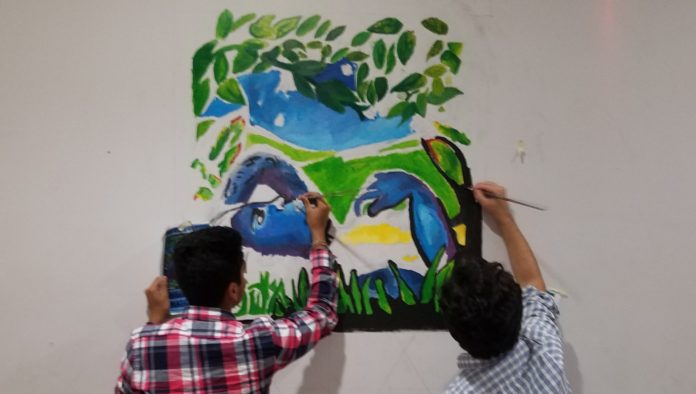 By LEO VILLA-FORTE '19
They are an important part of the Saint Ignatius culture, making our campus as interesting as possible. They've been working behind the scenes to produce artwork to be featured across campus. You may have noticed, for example, a painting in the Main Building of the book cover of "Their Eyes Were Watching God". Or maybe you've seen the painting of "The Catcher in the Rye", another great work by A.I.R.
The EYE interviewed Sophomores Joe Stanfar and Dev Patel to get some insight into the process of their work. The reason they are painting book covers now is that as popular books are read in English classes, teachers can make requests to the moderator of A.I.R., Ms. Burrows, for a painting, and they'll make a rendition of the cover. For their painting of "Their Eyes Were Watching God", for example, A.I.R. is painting the main character with a field in the background.
Plenty of work goes in to making these works of art. A.I.R. works every Wednesday. Currently they're working on three book covers, but the artwork A.I.R. produces for Saint Ignatius is very diversified, and isn't limited to just book covers. From the Freshman cover of the Yearbook last year to prayer cards for the feast of St. Ignatius, which featured a picture of Monserrat, these artists have been spreading impactful works of art throughout the Saint Ignatius community.