By Luke Van de Walle '19
Becoming 8 time back to back to back to back state champions is no easy task. But that is exactly what this year's soccer cats have in mind. The team has a primarily youthful roster, with only three seniors returning to play, two of them captains: Ryan Mark and Alex Rohr. With great success in the past, the soccer team has high hopes for this season.
When Coach Mike McLaughlin '85 was asked about the big standards he and his team have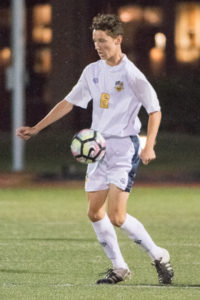 set in the past three years, he replied, "We set big goals, and we know those are there, but what really matters is to set a bunch of little goals to get there. We know that those championships are out there, but ultimately it is boiled down to what we do today. We're hoping we train our hardest at practice and understand that today we have to be our best, and if we understand that if today we have to be our best, and tomorrow we have to be our best, then the ingredients are there for the season to be special."
Coach McLaughlin and his team hope that focusing on the season day to day, they will be able to repeat what they did last year, and win not only a state championship, but a national one as well.
When asked about any standout players on the team, Coach McLaughlin recalled past years when this was an easy question to answer, but he insists that this year's lineup is very balanced, and that the goal scoring is spread evenly throughout the team. According to him, there is not one player that is changing the outcome of the game, but the entire team working together and moving towards a common goal.
With the roster made up of 14 sophomores, there is very little varsity soccer experience on the team. Nonetheless, Coach McLaughlin speaks with confidence about his roster, saying:
"They're all high level soccer players. They understand the game at a high level, and now it's a matter of them understanding life on the big stage… You can never replicate the real thing, and so we're playing one of the toughest schedules in the country this year so that the boys get a feel for it each time they go out and play."