BY JUSTIN ADLER '18
The 2016-2017 season for the Saint Ignatius Rugby team can be seen as nothing short of a roller coaster ride. After dropping two pivotal games to Archbishop Moeller and Penn towards the end of the season, the team was forced to reexamine their identity.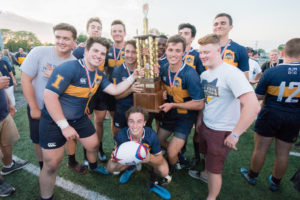 The talented squad, led by seniors Eddie Patton, Jimmy Desmarteau, Matt Lipaj, and Josef O'Brien, recommitted themselves to defeating their crosstown rivals, the St. Edward Eagles, and bringing yet another state championship back to West 30th and Lorain. On Saturday evening at Rocky River High School, Coach Dan Arbeznik '00 and his boys did just that.
When asked about the victory, Mr. Arbeznik said, "For the senior class, it was closure. They battled through four years. They were a group who had been written off by a lot of people. They proved that with hard work and intense focus, you can achieve great things. I hope a lot of the other players in our program look to them as models of 'this is how it's done."
The 17-7 win closed off a momentous season for the Rugby Cats, as they thrived despite playing what is considered the toughest schedule in the nation. They defeated the #3 team Penn and handed Cathedral, the #1 team in the club rugby division, their only loss.
Though the program is losing a very skilled senior class, Coach Arbeznik is left with the more than capable incoming senior class, led by Sean Whalen, Juan Pen, Nick Zolikoff, Aidan Gill, Alex Chura, and many others.
Though the schedule next year is not yet confirmed, Mr. Arbeznik does not intend to lighten the competition. He hopes that the team will be able travel to California next year during Spring Break to take on Jesuit HS of Sacramento, the newly crowned national champions, as well as a few high school teams from Los Angeles. After the State Championship victory, the team, although losing an illustrious senior core, will enjoy an extremely bright future.