1
216ers (Hudec) 2-0, up 1
2
St. Ignatius (Corte) 2-0, up 4
3
St. Christopher (Hunt) 2-0, up 8
4
St. Mary of the Falls (Rohr) 2-0, up 8
Last year's JV Gray/White City Champions appear to have another loaded squad this year, as they beat down on the Preseason #9 Navigators of Saint Brendan, 61-26 and on another St. Brendan team (Carney) the following weekend, 51-27. They face off against #4 St. Chris (Hunt) on the eighth in what should be a matchup of two of the top Local teams in the area.
5
St. Bernadette (Walsh) 1-1, down 4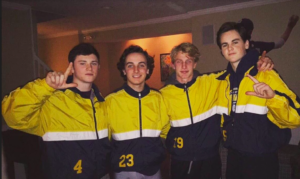 The most hyped team coming into this season, the preseason #1 "Bernie Boys" took a tough loss, losing 41-51 to Holy Family Parma (Francisco), but bounced back the following week with a win against St. Thomas More (Daugenti) 67-49. Don't sleep on the Dawgs, they know how long and grueling the CYO season is and will look to none other than Parker "Bands" Ripich and Riley "Doug" Kinzel to lead them back to greatness.
6
Sts. Joseph and John (Vollman) 1-1, down 2
The Vikes, ranked number 4 in the preseason, got a good dub against preseason #7 St. Joseph Avon Lake (Leduc) 64-46. However, they did suffer their first setback of the season to St. Joe Avon Lake (McGrath) 50-53.
7
St. Paschal Baylon (Siefert) 2-1, down 4
8
St. Mary Avon (Plas) 2-1, unranked
Led by star Junior Killian Meehan, the Wildcats burst onto the scene this past week by knocking off St. Bartholomew (Bruce) 63-51 and Assumption (Farr) 56-33. Their only setback of the season came at the hands of St. Angela Merici (English) in their first game of the 2016-2017 campaign, 44-47.
9
St. Angela Merici (English) 1-2, down 1
MVP RACE
James Leyden (216ers)
Tom Grosel (St. Ignatius)
Alex Shibley (216ers)
Matt Hunt (St. Chris)
Parker Ripich (St. Bernadette)
PLAY OF THE WEEK
Bill Beegan of St. Brendan (Fitzgerald) hit this crazy 360 behind the back layup last week against St. Mary of the Falls (Rohr). Please congratulate Bill if you see him this week!

Dropped out: Holy Trinity (Monroe) 0-1, St. Joseph Avon Lake (Leduc) 0-1, St. Chris (Snyder) 0-2, St. Brendan (Fitzgerald) 0-2
Send all photos/videos you want included in next week's article to either Chris Larsen (clarsen18@student.ignatius.edu) or Mark Bobinski (mbobinski18@student.ignatius.edu).