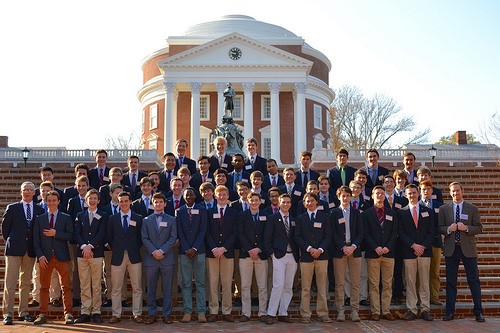 BY PETER NICHOLS '18
The 49 JCWA delegates traveled to the University of Virginia on November 17-20 for their first conference of the year. At the 36th VAMUN conference, they each represented politicians or world leaders in different committees. Some of the committees include the Indian Parliament, the Aztec Empire, the Constitutional Convention, and the Central Intelligence Agency (CIA).
The Diplocats have been preparing for this conference for over two months by researching various topics on their committee, writing position papers, and creating resolutions for their topics. In their committees, delegates debated topics and worked together to write and pass resolutions with some of the best Model UN teams in the country.
The Diplocats came home with three awards. Colin Caniglia '17, representing the National Police Force Head Officer in the Weimar Republic, received an honorable mention (third place). Jack Showman '18, representing Fidel Castro in FARC (The Revolutionary Armed Forces of Colombia), received an honorable mention as well. John Jakubisin '18, representing a Chief Resident in Cairo for the KGB, received a verbal mention (fourth place).
After receiving his first award, Jack Showman '18 said, "The key is to talk constantly and make your presence known. I passed a ton of personal directives and my plans didn't fail or backfire. I controlled all the Cubans in the committee with an iron fist. I acted like Fidel (Rest in Peace) by supporting the proletariat through thick and thin and starting a proxy war.
Winning any award at UVA is significant because schools like Langley have massive MUN clubs, so they send basically only their juniors and seniors. They manipulate how many people they send to maximize their chances of getting best delegation. We also go against schools that take MUN as a class."
John Jakubisin '18, the Under-Secretary General for Delegate Services, sums up the conference: "Regardless of awards, the conference was still a great opportunity for learning Model UN and gaining experience. Considering that we had 20 first time delegates, we were expecting this to be a conference for delegates to learn the intricacies of speaking and writing."
After a weekend full of heated debate, the team attended the annual "delegate dance", where they undisputedly lead the dance floor year to year. Commentating on the social aspects of JCWA, Secretary General Cullen Viancourt '18 states, "JCWA is a great outlet for young men, whether their passion is politics, athletics, or just meeting new people. JCWA gives all of them an amazing opportunity to forge memories that will last a lifetime."
The Diplocats now look on to start preparing for their next conference in February at the North American Invitational Model United Nations Conference (Georgetown).