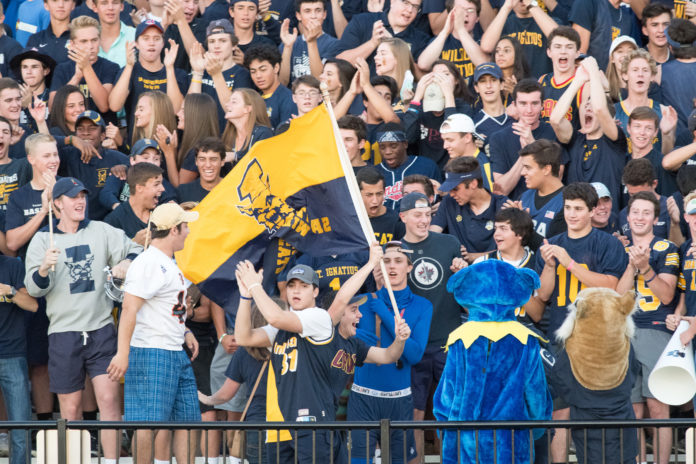 No one said it was going to be easy. Just like what LeBron James said, "In Cleveland, nothing is given, everything is earned."
Saint Ignatius, now 13-1, defeated Olentangy Liberty 24-14 in the State Semifinal Friday night at Arlin Field in Mansfield. They will play in the school's 13th state football championship game, with a phenomenal 12-1 record in those games.
Saint Ignatius got off to a good start defensively in the first half, going into halftime with a comfortable 14-0 lead, and held the Patriots to zero first downs in the first quarter.
Olentangy Liberty would not go away, however. With Mitchell Okuley out of the game at quarterback for the Patriots, Ohio State recruit Brendon White would have to take over, and he would do just enough to put his team in a position to win the game.
White would fire a 27-yard pass to Johnny Wiseman in stride to the endzone to make it 14-7 Wildcats with 9 minutes left in the third quarter.
After that, it would be a defensive showdown between the two teams. Liberty's defensive line ended up being one of the best Saint Ignatius has seen all season long. They were able to swallow up Pat Ryan in the backfield when he tried to go for a run. And then the Wildcats defense did a phenomenal job wrapping up Brendon White, as Adam Shibley and Joe Gibbons had highlight after highlight. They forced White to throw the ball, which is not his strong suit. Cam Toppin did a phenomenal job in the secondary, and Matt Viancourt almost came up with two big interceptions.
However, Pat Ryan would not be denied by Liberty's defense. He would bounce out to the right sideline, find a seam, and take it 69-yards to the endzone to put the game out of reach and make it 21-7 Saint Ignatius with 4:30 left in the game.
Once again, Olentangy Liberty would not be denied. Brendon White led a huge touchdown drive, which featured an old fashion hook and ladder that caught the Saint Ignatius defense off guard. The drive ended in a touchdown pass from White to Drew Rosi, a Toledo recruit.
That made it 21-14 Saint Ignatius, 3:30 left to go in the game, and Liberty elected not to go for an onside kick, which may have come back to affect the outcome of the game. Liberty would get the ball back on a booming kick from Colin Goodfellow, pinning the Pats inside their own 20-yard line.
The game would come down to this final possession for Olentangy Liberty, led by Brendon White at quarterback. Getting straight to the point, the Wildcats would stop the undefeated Patriots on four downs and then ice the game with a Matt Trickett field goal, making it 24-14 Wildcats for the final.
Pat Ryan finished with 87-yards passing on 8 completions. Mark Bobinski ran for 44 yards on 19 carries, getting his 20th touchdown of the season Friday night and surpassing 1000 rushing yards in his career.
Saint Ignatius will now gear up for the Bombers of St. Xavier, who defeated Pickerington Central 29-27 in the other state semifinal. Saint Ignatius beat the Bombers in Week 9 down in Cincinnati, 31-14, and will face them in the state championship game for the third time ever.
It will be the 2016 OHSAA Division 1 State Football Championship Game, between Saint Ignatius and St. Xavier, at Ohio Stadium on the campus of The Ohio State University. A battle of the Jesuit rivals for gold!