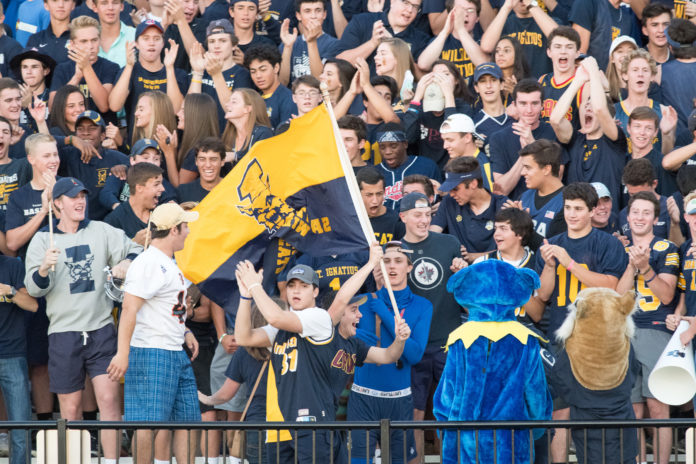 The Varsity Football is in survive and advance mode now in the month of November, and they were able to survive the Polar Bears of Jackson this past Friday night.
Saint Ignatius hurt the Polar Bears all night long with their dominant run game, led by Mark Bobinski and Dean Stowers. With 219 rushing yards, 4 rushing touchdowns, plus a 59-yard outburst by Stowers, Jackson's defense was no match for the Wildcats ground game that has been prudent all season long.
For the second week in a row, and eighth time in the season, the Wildcats activated that running clock. To run the running clock eight out of a possible eleven times so far is incredible given the opponents that we have had to face. We went into a running clock in the Mentor game, in the Archbishop Moeller game, versus St. Edward, and now in the first round of the playoffs.
A lot of credit for that has to be given to the defense to make sure the Wildcats have that 30-point difference. However, give even more credit to the offense. Saint Ignatius so far has won the game in the second quarter. The Wildcats have scored 151 points in the second quarter this year, the most out of the four quarters. Recently they scored three touchdowns in the second quarter in the Regional Quarterfinal versus Jackson.
Their next task will the top-seeded Solon Comets Friday night at Mentor's Jerome T. Osborne, Sr. Stadium. That is a place the Wildcats know all too well, and it sure will be good to be back at our rivals turf. The Comets enter at 10-1, just like the Wildcats, but have played a weaker schedule in the Greater Cleveland Conference. They're coming off of a first-round win over GlenOak, a team that the Wildcats defeated 34-17 in Week 7. Solon has been led by first-year quarterback Joe Bubonics and his top receivers in Jake McCurry and Darryl Sinclair, along with Virginia commit Chris Glaser. They definitely like putting up as many points as possible, much like Mentor from last year. However, they will be tested by the dominating defense of the Wildcats, who have five shutouts for the first time since 1992, a state championship season.
Solon's head coach is Jim McQuaide, the same coach that led St. Edward in the 90's, and was a part of the historic triple overtime game with Saint Ignatius.
In the other part of Region 1, St. Edward faces off with Stow-Munroe Falls in their Regional Semifinal at Twinsburg High School. The winner of these two games will face off in the Regional Final for a shot to move on to the State Tournament. That game will most likely be played at Brunswick High School.