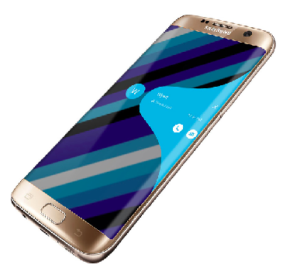 By ALEX RAMBASEK '17
A glorious day it is for smartphone users across the globe. At last, Samsung's crowning achievement has been brought to fruition.
The S7 Edge, the sleek, stunning, vibrant, technological giant in its field packing almost everything a smartphone user could ask for, such as warming up those chilly days by instantaneously combusting upon unboxing, and… oh wait, that's the Note 7. Scratch the whole combusting part.
On a serious note (ba dum ching), however, the S7 Edge is truly the best smartphone I have ever had the privilege of using. For starters, the S7 Edge sports the functionality of other Androids with the beauty of an iPhone. It has a curved display, a metal and glass build, and is available in more colors than before. It really is a looker.
This is a big step for Samsung, seeing as design has never been their strong suit. The phone itself is absolutely gorgeous in my opinion, and it makes the iPhone 6s look boring and outdated (I get it, iPhone 7 is pretty sleek, but you just wasted your money removing the headphone jack). But on top of the looks, it's also a very sturdy phone, protected on both sides by Corning Gorilla Glass 4. Also, it has a micro-usb port, so you can increase your storage tenfold without being swindled by the service providers.
As far as the display, the S7 rocks a QHD resolution of 2560 x 1440 and a ppi of 534, the highest we've ever seen on a smartphone. And it shows, too; the display is absolutely immaculate. Although the camera on the S7 isn't as good as the new iPhone 7, it's still substantial and pretty much all one needs, save you don't practice photography as a career.
The S7 runs Android OS v.6.0 Marshmallow, but Samsung users are dismayed that we've yet to receive the v7.0 Nougat update. Don't worry; it's coming soon. The processor is where the S7 really runs the tables. It has a Qualcomm MSM8996 Snapdragon 820 chipset, a quad-core or an octa-core (wow!) CPU for multitasking and optimal performance, and an Adreno 530 graphics card for high video/app resolution. Enough said. The S7 also has a superior battery life than any other smartphone at 3600 mAh (iPhone 7 has 2900), and comes suited for fast and wireless charging.
All in all, this phone has really proved Samsung's worthiness in the competition between Apple, and has set the bar high for all other competitors. The only complaints I have with this phone are some issues regarding the curvature of the screen, where the side of my hand occasionally registers (this problem disappears with pretty much any case) and the fact that it's pretty expensive, although nowhere near the first-born child and kidney that Apple demands.
I love this phone, and would recommend it to all Android users and those who don't especially appreciate Apple's sinister marketing scheme.
9.5/10