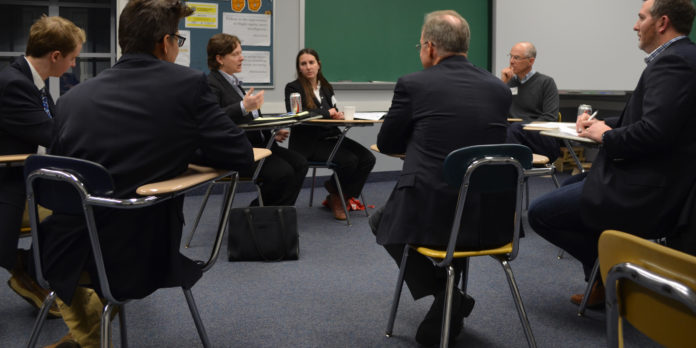 By TIMOTHY DOMZALSKI '14
The Saint Ignatius Entrepreneurship Academy is launching an all new project based learning program for upperclassmen. In addition to the business pitch competition, field trips, and internships, the club wants to give its members opportunities which are unrivaled by any other local entrepreneurship program, by facilitating active trading on the stock exchange, internal energy research, and the opening of a full retail store.
The Investment Sub Committee is a board of eight students and Saint Ignatius's CFO, Mr. Richard Klingshirn, that actively invest the club's $16,000 endowment and competes in Marketwatch competition to beat the S&P 500. Its goal is to simulate on a very small scale how to actively manage risk, anticipate market responses, and diversify a portfolio.
St. Louis small business owner, Mr. McAteer, is looking to open up a Cleveland branch of his business. Kalb Electric currently provides a unique service, chandelier cleaning and restoration. Recognizing that this market is underserved in Cleveland, he asked the entrepreneurship club which has assigned three project groups: Market Research, Location Planning, and Marketing, to aid Kalb Electric. These three teams are going to do everything from finding and fitting a building, to advertising, to researching optimal markets.
In line with the school's green movement, the entrepreneurship club is researching energy efficiency in order for students to learn best practices, and then go out to assist grade schools that do not have a plant services team that audit energy usage. would evaluate the school's current usage, The club would evaluate the school's current usage, then suggest more efficient changes.
The club is trying to simulate real business experience to give its members an advantage both in college and in the real world.
SIEntA is still looking for responsible and hardworking upperclassmen to get involved. If you are interested or would like to know more about any of the Entrepreneurship Club and its projects, please email entrepreneurs@ignatius.edu.