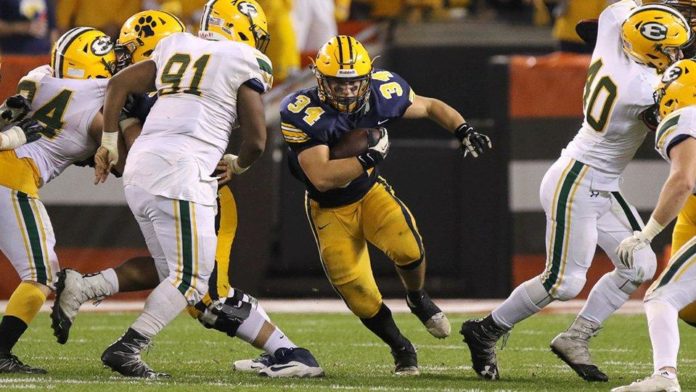 On a beautiful night for football, the Wildcats put on their most dominant game yet in 2016 at FirstEnergy Stadium versus their rival.
It all started off with a goal-line stand on the first possession for St. Edward. The Eagles drove all the way down to the 1-yard line, but it was Adam Shibley who made a huge fourth-down stop when the Eagles went for it, and got the Wildcats the ball back.
It would be the second drive of offense for the Wildcats to strike first. After a Matthew Wiegandt interception, Pat Ryan had great field position to get the Wildcats on the board. Mark Bobinski would run it from 7-yards out to make it 7-0 Saint Ignatius with 2:00 left in the first quarter.
Then after St. Edward punted for the third time already in the 1st half, it was "Bobo" again going 55-yards, his longest run of the season, to make it 14-0 Saint Ignatius.
Ryan and the offense would then get the ball right back with less than a minute to go. He would place a lob pass perfectly for junior wide receiver Sam Snyder for 16-yards. Just like that, it was 20-0 Wildcats, after a missed PAT.
The offense would not let up, though. These guys were rolling as Pat Ryan made it look too easy, galloping for a huge touchdown to make it 27-0 Wildcats. And at this point, you asked yourself, "What on earth is going on!?" After another 3-and out issued by Saint Ignatius' defense, Dean Stowers had a huge run for 43-yards to take it to the 5-yard line, and then Ryan found a wide-open Mike Lehto making it 34-0 Wildcats with under 7 minutes left in the third quarter.
From the phenomenal play of Pat Ryan leading the Wildcats offense, to the slick running of Bobinski, and the shutdown defense by the defense, allowing just four first downs for Saint Ignatius all night long, it was an all-around team win in front of a packed crowd in the lower bowl for Saint Ignatius.
With the 34-7 win over their rival, the Wildcats have clinched a home playoff game on Friday night at Byers Field vs the Massillon Jackson Polar Bears. They will take a 9-1 record into the postseason, whereas the Polar Bears are 7-3.