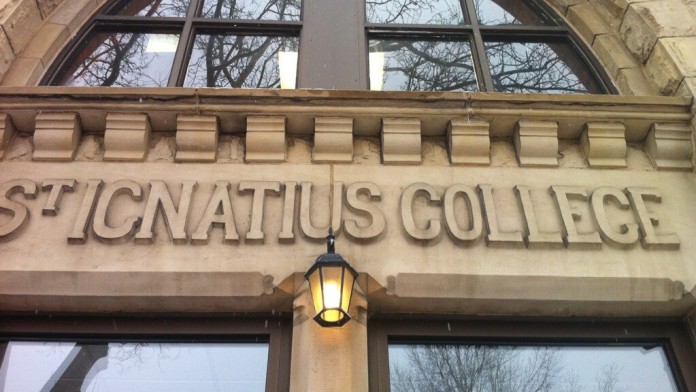 by Dominic Gideon '14
In society, in our local community, and in the Church, environmental issues have been pushed closer and closer to the forefront of concern. From Greenpeace USA's fight to end deforestation to Sustainable Cleveland's effort to increase renewable energy in the city to Pope Francis' continual insistence that humans be protectors of the environment, the world is making a shift to a greener future.
So what is Saint Ignatius doing to help in this global environmental movement?
Mr. Hendler, head of plant services, says that his department is doing a good job making the campus more eco-friendly. He makes sure the school's building, lighting, heating, and cooling are all done with environmental consciousness in mind.
First off, plant services now mandates that all building and remodeling follow the LEED (Leadership in Energy & Environmental Design) Silver certification. So far the Breen Center and Gibbons Hall have been the only projects to follow the LEED program. To meet the requirements, the projects needed to use renewable materials, get as much of the materials from local sources as possible (cutting the pollution from shipping), install efficient lighting, use low VOC (volatile organic compounds) paint, and meet a few other standards.
In addition to construction, plant services has many energy conserving initiatives that they use every day, like their ongoing energy efficiency program, which ensures that the school uses electricity and natural gas as efficient as possible.
They also make sure that the equipment used on campus is up-to-date and energy efficient whether it be replacing an old air handler, installing LED or t5 lighting in all the facilities, or using a remote monitoring system that can manage much of the buildings' equipment with one device.
Looking towards the future, Mr. Hendler plans to "upgrade temperature controls so we can monitor and update the library and math wing more efficiently."
[pullquote]
"I'd like to see us discover different ways to be more ecologically responsible."
[/pullquote]
Along with plant services, student clubs─ the Green Team and Ploughmen─ as well as the administration are putting forth an effort to make Ignatius a greener place.
On the administrative side, Mr. Bradesca is supportive of a more eco-friendly environment and has made a few changes toward such a future, but most of his green initiatives are currently hypothetical plans.
"I'd like to see us discover different ways to be more ecologically responsible," Mr. Bradesca said, later noting different ways to make the school greener: buying more eco-friendly products like biodegradable items in the cafeteria, having more reusable water bottles rather than plastic, and making environmental awareness more into the curriculum.
In regards to what has already been done, Mr. Bradesca mentioned cutting teacher printing budgets to encourage technology and more paperless means of education, and the great work of the Green Team and Ploughmen who have taken the initiative to make a greener campus.
The Green Team collects all the school's recyclables every Monday. Last year they installed tri-bins─ garbage, paper, and bottle bins all in one─ to make recycling more convenient and started a light campaign urging people to turn off lights in classrooms after leaving them to conserve energy.
The Ploughmen, who are known for their vegetable growing and beekeeping, also compost about 40 pounds of food scraps from the kitchen each day, according to moderator Mr. McCafferty.
This composting not only keeps 40 pounds of scraps out of the landfill each day, it also save the school money. "Every time the trash compactor gets filled, Ignatius pays two times for that─ for the takeaway of the compactor, like a hauling fee, and then they weigh it," Mr. McCafferty explained. "So depending on how heavy it is they get charged a different account."
The compost also is very beneficial to the Ploughmen's crops. "As [that food material] becomes composted, that becomes food for other vegetables that we grow. And those go anywhere from St. Herman's to sharing with family and friends," said Mr.McCafferty. "That waste becomes energy to support future growth."
Yet while the Ploughmen are happy with their composting project, Mr. McCafferty thinks they should be doubling the amount.
In the fall, the Ploughmen had a "waste audit" where they took a day's worth of garbage from Rade, the Atrium, and the senior lounge─ 30 bags in total─ and sorted through it." Some of it was pure garbage, some of it was compostable material, some of it was cans and bottles that could have been recycled," Mr. McCafferty said.
Overall there was about 40 pounds of compostable material. That is 40 pounds every day, not to mention the bottles that could be recycled,which the school pays to ship off to a landfill rather than using it for their own benefit. Not only does this waste money and keep the Ploughmen from using it for their plants, but it also uses more gas for transportation.
So Mr. McCafferty wants to change that.
[pullquote]
"That waste becomes energy to support future growth."
[/pullquote]
"We'd like to devise a plan where we change the waste stream in the cafeteria, and this is partly student responsibility. In the same way we have a tribin, we'd have a quad bin (with compost as the fourth)."
"Right now [because of the disposal setup]," he said, "it takes students a lot of effort to make a good choice."
Mr. McCafferty also think the school could do a better job with handling recycling.
"Whenever we have an event there's no recycling plan in place, and those are the times we have the most recyclables," Mr. McCafferty said. "Something like open house, there were garbage cans overflowing with little 8 ounce bottles of potential students, and those end up all getting thrown away."
So Saint Ignatius'commitment to the environment isn't perfect; it doesn't have every system and priority in place to be as green as possible. But there's not doubt it is getting closer and closer every year. Because the "green movement" is not going away.
"It make sense economically, it makes sense in terms of people's health and the greater health of the community, and it also makes sense for that  idea of caring for creation," Mr. McCafferty said.