"I can't wait to try this."
These were the words of an ecstatic freshman who was the first in the door for the St. Ignatius Crew Team's 2008-2009 opening meeting. His great-grandfather was John B. Kelly, known as the 'Babe Ruth' of rowing. Daniel Murphy '12, had rowing in his blood.
During the school year, "Murph" became close friends with Anthony Carl '12, and Gopal Srinivas '12. They seemed to do everything together, and they especially enjoyed watching and talking about college football. Srinivas, a devout Florida Gators fan, and Murphy, an avid Notre Dame fan, bantered amicably back and forth throughout the BCS Championship Game between the Gators and the Oklahoma Sooners. One day in the summer of '09, Srinivas recalls, the trio walked 5 miles to a local diner. Murph had said one of his parents would give them all a ride home, so they stocked up on nearly 5 pounds of food each. However, they ended up walking the 5 miles back home with arms filled with food. The three of them hung out nearly every day that summer.
As summer vacation came to a close their sophomore year was soon underway. Suddenly, tragedy struck on September 19, 2009. Dan and three friends went for a ride on an ATV before getting ready for homecoming that night. Dreadfully, they lost control and crashed. A locker would now be empty. A classroom seat would now be vacant. That day, the friend everyone called 'Murph' passed away in an accident. At homecoming that night, the dance became a vigil in the chapel.
The initial shock, like a sucker-punch to the gut, knocked the wind out of the Gesu and St. Ignatius communities. Classmates and teammates alike had difficulty sleeping, focusing in class or practice, and even eating. Those who struggled with sleep had reoccurring nightmares when they did.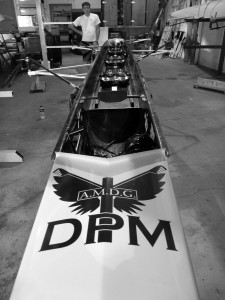 Alex Barney stands alongside the Murph '12. A four-man shell named in memory of Daniel P. MurphyAt his wake, Dan's aunt approached Crew Coach Matthew Previts '97 with a proposal. In the spring of 2010, that proposal became a reality. The crew team purchased a new shell–a 4-man boat used in rowing competitions– in Dan's namesake, the Murph '12. This is among the highest honors one can receive in the sport of rowing. Yet, this isn't any ordinary shell. It is an Olympic-quality shell, better than most shells in the boathouse. The Murph '12 also provided a physical embodiment for his teammates to continue to heal spiritually. Inside the shell is a photo taken of Dan on the day of the accident at that morning's race. Those rowing in the Murph '12 tap his picture as they climb in, much like Notre Dame's "Play like a Champion Today" tradition. This gesture is especially appropriate due to Murph's devotion to the 'Fighting Irish'.
Since then, a scholarship fund and a 5K race have been named in his honor as well. The scholarship fund was particularly important to his parents. It enables other students to receive the education Dan never had the opportunity to finish. There is a bit of irony found in the 5K run: Murph believed running was the worst part of every crew practice.
This past weekend marked the first anniversary of our brother's passing. Many think of him frequently. When asked how often he thought of Dan, Srinivas said without hesitation, "Everyday, everyday." As Coach Previts was running the Philadelphia Marathon, he prayed to Dan the entire last mile so he'd have the strength to finish. Murph's name is still announced in the crew team's roll call every practice.
Although, the race, shell, and scholarship fund will never fill the gap Dan has left, they continue to bring friends and family together and bring comfort to the Murphy family. His story is a reminder of how short life can be. The crew team raced on September 19, the first anniversary of his passing. As they competed on their home course Dan was each member's mind. And on that day–just like every other–Dan's name was on the roll call, because Murph is still 'present.' He is present with all of those whose lives he's touched.•